Company Info
Large organization
200 + Employees
BOLLORE
Job Position – Technical Key Account
Job Details Here
Bollore Logistics UAE is hiring- Technical key Account.
Main Responsibilities,
·        Ensure data availability to Global / Regional Key Accounts to perform required customer Analysis.
·        Monitor Data Quality / address any quality, quantity issue to relevant District, Country, Region to perform Customer Analysis.
Manage / Monitor Electronic Data Interchange flows with clients if any.
Required Skills/Knowledge,
·        Good computer skills (particularly in MS Word, Excel, and Outlook).
Good English communication skills (read, write, and speaking.
Excellent at Business & Data Analytics.
Experience in TMS extraction/data reporting.
Possess strong Freight Forwarding knowledge (Air, Sea & Road)
Personal communication skills and influential character.
Required Work Experience
5 to 10 years of experience working in Logistics & Warehouse management in the freight-forwarding industry.
Required Qualifications
Bachelor's degree in Business Administration / Sales and Marketing or a relevant field.
Required Languages
English language skills (Oral & Written).
Email the resume : gcc.recruitment@bollore.com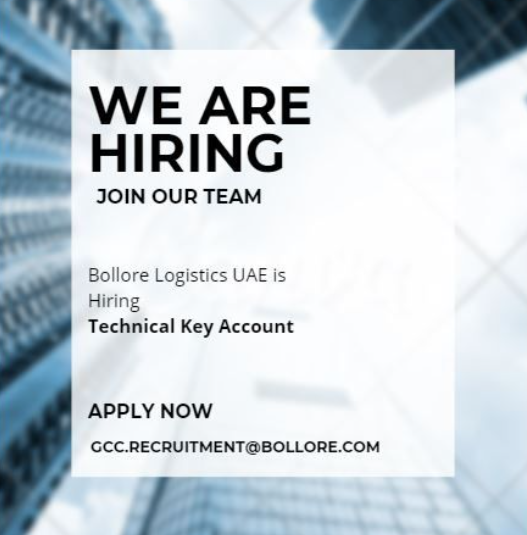 FOLLOW US FOR MORE LIVE UPDATES
Jobs in Dubai – Click Here 
Jobs in Abu Dhabi – Click Here 
Jobs in Doha – Click Here 
Jobs in Qatar – Click Here
Jobs in Saudi Arabia – Click Here 
Jobs in United Arab Emirates – Click Here