Company Info
Large organization
200 + Employees
Latifa Hospital
Latifa Hospital
Latifa Hospital is a hospital for Women and Children. It is one of the largest maternity and children's hospital in the UAE and was built in 1987. The hospital was previously known as Al Wasl hospital and was renamed Latifa Hospital on the 4th of January, 2012 as per the orders of His Highness Sheikh Mohammed bin Rashid Al Maktoum, Vice-President and Prime Minister of the UAE and Ruler of Dubai to pay homage to the loving memory of his late mother Sheikha Latifa Bint Hamdan bin Zayed Al Nahyan.
His Highness Sheikh Mohammed issued this directive on the sixth anniversary of his accession as the Ruler of Dubai.
Latifa Hospital provides tertiary care for maternal and neonatal services including paediatric and neonatal surgery as well as treatment for genetic and metabolic issues. The hospital has a well-equipped Neonatal Intensive Care Unit and an expert team of health care professionals who provide international levels of neonatal, Pediatric and maternal care. Latifa Hospital serves as a referral hospital due to its highly sophisticated and well equipped Neonatal Intensive Care Unit, Fetomaternal services and the Paediatric Surgery Unit.
Job Positions – Latifa hospital Careers Jobs Vacancies
Physiotherapist
Dietitian
Assistant Nurse
Job Details Here
Physiotherapist
Act independently to assess  and  evaluate the patient using various techniques and methods in order to developfunctional  diagnosis , plan and monitor rehabilitative care.
Act independently to implement therapeutic techniques and procedures as per the scope of the specialty/competency that aim intofUnctional rehabilitation
Undertaking predominantly complex cases ;manage case load efficiently & e.ffoctively and take all precautions  to observe indications and contraindications ..
Maintain documentation records and all statistical information that reflect care delivery as per the standards and policies of thefacility
Communicate with referral sources, team members and all professionals  aiming at maximizing rehabilitation outcomes  and act as a clinical resource for others in the specialty to optimize care delivery.
Provide on-call duty after working hours, during public holidays and cover absent staff  when required
Participate in professional development activities , team meetings I rounds as required
Supervise Senior therapists I,technicians and rehabilitation aides to ensure compliance with policies,procedures and protocols. Participate in Student's clinical practice.
Prepare patient reports I necessity letters when requested
Participate in the development, implementation  and  maintaining appropriate clinical guidelines ensuring clinical effectiveness to optimize patient car
Bachelor  or Master Degree in related specialty
2: Dietitian – 

Latifa hospital Careers
Monitors preparation, delivery, and serving of meals to patients.
Manage food and nutrition services through diet analysis labels for all meals, tube feed and snacks using the electronic diet order system.
Carry out sensory evaluation on all special diets before service. Check the tray line – against the label.
Conduct patient nutrition assessment to determine risks and arrive at nutrition diagnosis to identify the nutrition requirements
Develop nutrition intervention plan for low – medium risk patients and make recommendations for treatment, which includes diet therapy and education.
Continue the nutrition care process with follow up appointment with the patient through OPD-Nutrition Clinics.
Provide nutrition education for patients and families individually or for Awareness activities   .
Maintain and update all necessary nutrition records.
Respond to patients' complaints and individual food preferences.
Provides in –service education and participates in training concerning food service and diet therapy to food service personnel and students.
Communicates with Service Supervisor / food service manager on a regular basis.
Ensure compliance with department policies and procedures.
Carry out other duties assigned by immediate supervisor
B.Sc. degree or Higher Diploma  in Clinical Nutrition or related field  (UAE National Only)
3: Assistant Nurse – 

Latifa hospital Careers
• Assists the staff nurse in planning, implementing and evaluating the delivered nursing care to the patients that is evidence based.
• Prepares patients for procedures, treatments, surgeries
• Assists with tests and evaluations and monitoring and documentation of vital signs and patients' condition
• Utilizes medical and healthcare equipment and ensure that stock of supplies is maintained
• Responds appropriately to emergency situations
• Maintains the on-going communication with the staff nurse regarding the health and functional status of patients
• Provides support and comfort, assisting with the activity of daily living to achieve an optimal level of independence and providing the emotional needs of patients
• Acts as patient advocate
• Demonstrates an understanding of patient's privacy and confidentiality of information at all times.
• Undertakes additional tasks as assigned.
Minimum Qualification:
• Minimum 18 Months Diploma in Nursing/ Midwifery
• Eligible for DHA licensing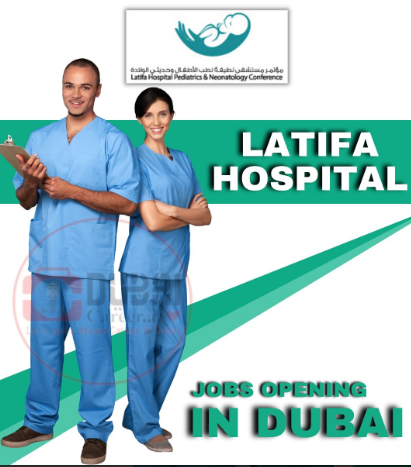 FOLLOW US FOR MORE LIVE UPDATES
Jobs in Dubai – Click Here 
Jobs in Abu Dhabi – Click Here 
Jobs in Doha – Click Here 
Jobs in Qatar – Click Here
Jobs in Saudi Arabia – Click Here 
Jobs in United Arab Emirates – Click Here