Company Info
Large organization
200 + Employees
BINGHATTI
Job Position – Binghatti Careers Jobs Vacancies
1. LEAD ARCHITECT
2. Female Guest service officer
3. Design Director
4. Design Architects
5. Junior Graphic Designer
6. Project Manager
7. Senior Site Engineer
8. Contruction Manager
9. Land Surveyor
10. Senior Quantity Surveyor
11. HR Manager
12. AP Accountant
13. Sr. Procurement Officer – has experience with consultants
14. Sr. Procurement Officer – Civil
15. Sr Procurement Officer – MEP
16. Voice President of human Resources
17. Sr. Graphic Designer
18. Senior Sales Executives
Job Details Here
Only candidates with at least 7 years of experience in UAE in the same field will be considered.
Email the resume : hr@binghatti.com
Design Architects
following programs:
▪️Rhinoceros
▪️Grasshopper
Nationality:
▪️Italian, Spanish, South American, Russian, Ukrainian, Polish, Hungarian
Additional following skills are preferable:
▪️Revit
▪️BIM
▪️Sketchup
▪️Maya
▪️Archicad
▪️Freehand sketching
English required level: Advanced
For interested to apply, please send your resume and portfolio at recruitment@binghatti.com
HR Manager
HR MANAGER (for CONSTRUCTION DIVISION)
– with more than 15 years in a Construction Company in Dubai and handling more than 3,000 + manpower.
– preferably from a Reputable Construction Company in UAE with luxury or high-end projects.
– with a proven background in Recruitment Management, Manpower Planning, and HR Strategic Planning.
– strong knowledge of UAE Labour Law Rules and Regulations.
Binghatti is offering an attractive package. Come, join our Team!!!For qualified and interested to apply, you may send your resume to 
HR@BINGHATTI.COM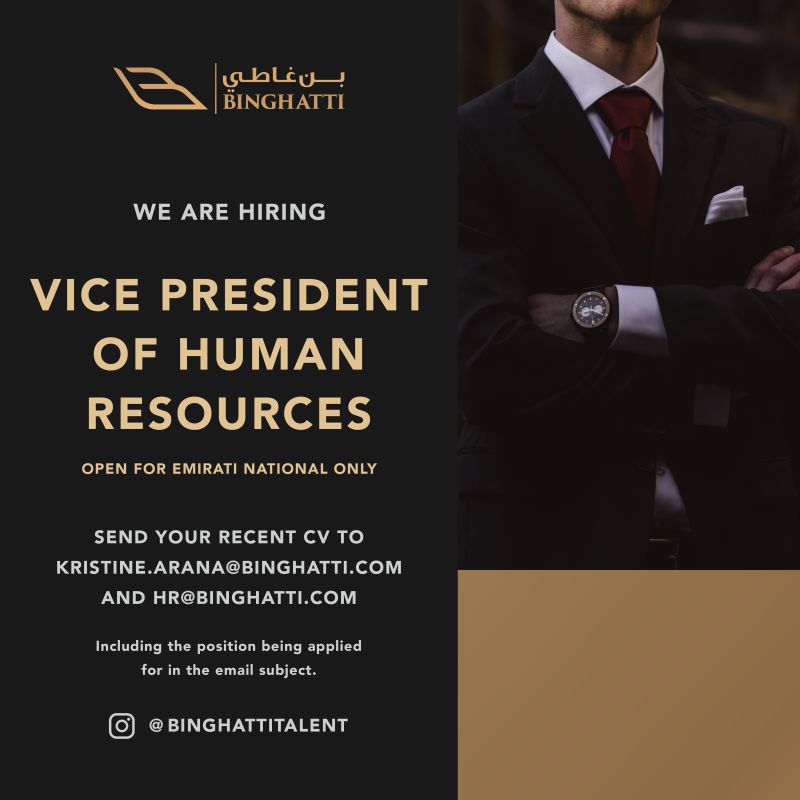 FOLLOW US FOR MORE LIVE UPDATES
Jobs in Dubai – Click Here 
Jobs in Abu Dhabi – Click Here 
Jobs in Doha – Click Here 
Jobs in Qatar – Click Here
Jobs in Saudi Arabia – Click Here 
Jobs in United Arab Emirates – Click Here