Company Info
Large organization
200 + Employees
GroupL
Job Position – Customer Service Representative
Job Details Here
looking for a Customer Service Representative.
– At least 2 years experience.
– Manage large amounts of incoming phone calls Generate sales leads Identify and assess customers' needs to achieve satisfaction
– Build sustainable relationships and trust with customer accounts through open and interactive communication
– Location: Dubai, UAE.
For more details and to apply please click the link below.
Manage large amounts of incoming phone calls Generate sales leads Identify and assess customers' needs to achieve satisfaction Build sustainable relationships and trust with customer accounts through open and interactive communication Provide accurate, valid and complete information by using the right methods/tools Meet personal/customer service team sales targets and call handling quotas Handle customer complaints, provide appropriate solutions and alternatives within the time limits; follow up to ensure resolution Keep records of customer interactions, process customer accounts and file documents Follow communication procedures, guidelines and policies Take the extra mile to engage customers Requirements and skill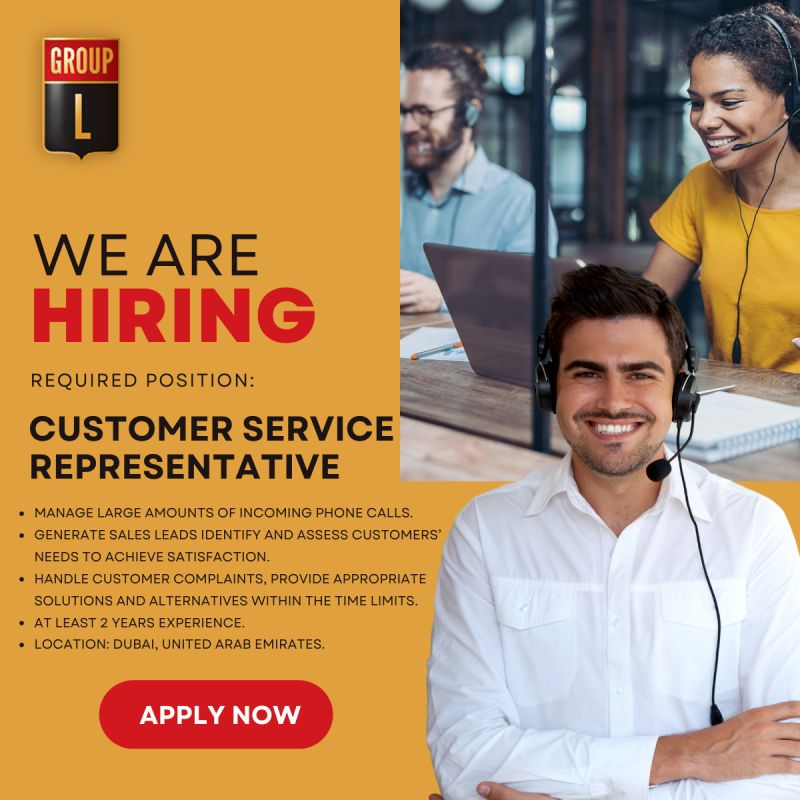 FOLLOW US FOR MORE LIVE UPDATES
Jobs in Dubai – Click Here 
Jobs in Abu Dhabi – Click Here 
Jobs in Doha – Click Here 
Jobs in Qatar – Click Here
Jobs in Saudi Arabia – Click Here 
Jobs in United Arab Emirates – Click Here