Company Info
Large organization
200 + Employees
British International Private School, Ajman
British International School Careers
British International School as the name implies, is first British Curriculum School located ideally on the border between Ajman and Sharjah, Dubai and Ummal Quwain. The school has been accredited by Cambridge International Examination and has acquired the status of a 'Cambridge International School'.
Latest British International Private School Ajman Careers Jobs Vacancies
KG teachers
Home Room Teachers
KG Arabic Teacher
Maths Teacher
English Teacher
Marketing Officers
Nurse
Assistant Teacher
Arabic Teacher
Science Teacher
Librarian
Urdu Teacher
PE Teacher
Homeroom Teacher(primary)
English Teacher (Secondary)
Arabic Teacher(female)
Social studies Teacher
English HOD
Maths teacher(secondary )
Islamic teacher
Home room teacher
Assistant teacher
ICT teacher
Islamic teacher(non Arabs-female)
Librarian
KG teacher
Art teacher
Digital marketing specialist
English HOD
Islamic teacher(for Arabs -female)
Job Details Here
Interested candidates may share their profiles at recruitment@biauae.ae
**Only shortlisted candidates will be notified.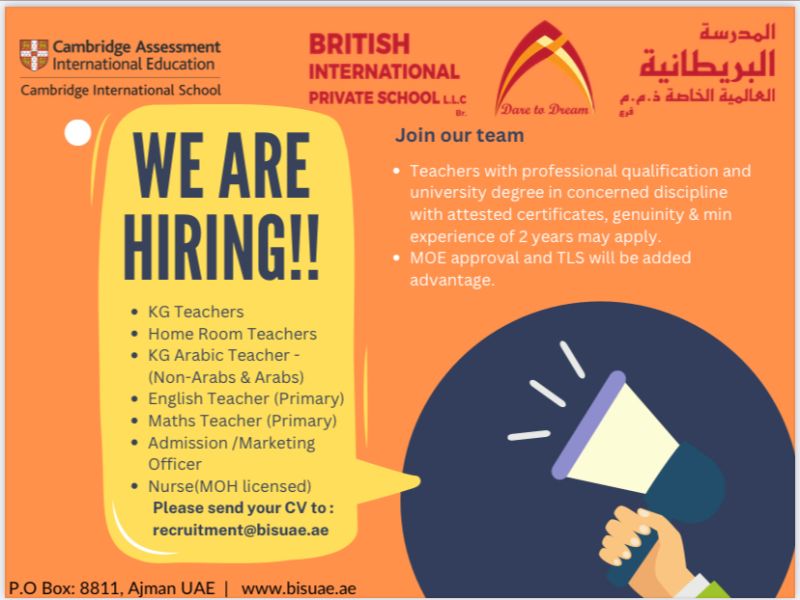 FOLLOW US FOR MORE LIVE UPDATES
Jobs in Dubai – Click Here 
Jobs in Abu Dhabi – Click Here 
Jobs in Doha – Click Here 
Jobs in Qatar – Click Here
Jobs in Saudi Arabia – Click Here 
Jobs in United Arab Emirates – Click Here