Company Info
Large organization
200 + Employees
Morex Group of Companies
Job Positions
1.Procurement Officer
2.Senior Sales Consultant
3. Sales Consultant Female
4.Retail Manager
5. Finance Manager (Trading background)- (02 Nos)
6. Sales Consultant-(03 Nos)
7. Senior Procurement Officer -(03 Nos)
8. Production Foreman (PIC) – 8 Nos
9. Senior Field Operator – 04 Nos
10. Materials Administrator – 04 Nos
11. Radio Operator – 04 Nos
12. Offshore Scheduler – 04 Nos
13. PTW Coordinator – 04 Nos
14. Operations Manager
15. Business Development Executive
16. Payroll Officer
Job Details Here
1.Procurement Officer – Minimum 5 to 10 years experience in trading company , should have experience in overseas and local purchase
(Salary Range -4000 to 6000 Qar Accommodation and Transportation will be provided by the Company)
2.Senior Sales Consultant- Minimum 5 to 6 years experience hospitality product supply , building materials and Electrical products (Salary range 4000 to 5000 Qar with accommodation and Transportation)
3. Sales Consultant Female -Minimum 2to 3 years experience hospitality product supply , building materials and Electrical products (Salary range 2500 to 3000 Qar with accommodation and Transportation Preference Philippines)
4.Retail Manager – 15 to 20 years experience in retail industry managing business development , managing profit and loss, do the market study and vast knowledge about the hospitality products
5.Finance Manager (Trading background)- (02 Nos)
Experience- 10+ Years
Job Role
Information Predicting future financial trends
3. Providing advice on how the company and future business decisions might be impacted.
4. Providing financial reports related to budgets accounts payable receivable expense etc.
5. Develop a long-term business plan based on these reports.
6. Reviewing Monitoring and Managing reports.
7. Develop strategies that work to minimize financial risk
8. Analysing market trends and competitors
9. Must have worked in Focus Software.
Salary Range – 8000-10,000 Qatar
6. Sales Consultant-(03 Nos)
Responsibilities
1.Build and maintain relationships with clients.
2.Create compelling sales pitches.
3.Sell the company's products and services.
4.Complete all paperwork relating to a sale.
5.Perform research on the competition's services.
6.Reach out to potential clients to inform them about our products and services.
Requirements
1.Experience working in sales.
2.A degree in marketing or a related field.
3.Excellent verbal and written communication skills.
4.Ability to gauge client needs.
5.Charismatic personality.
Product Knowledge – Hospitality products , Building Materials , Lighting and Electrical items .
Experience – 05-07 years
Salary Range – 4000-5000 Qar with Accommodation & Transportation
Interested candidate please share the resume to recruitment@morexgroup.com 
Operations Manager
Nb: Candidate with 08-12 years with experience in Electrical and Lighting products can apply for job
Interested candidate please share resume to recruitment@morexgroup.com or call 974-66160579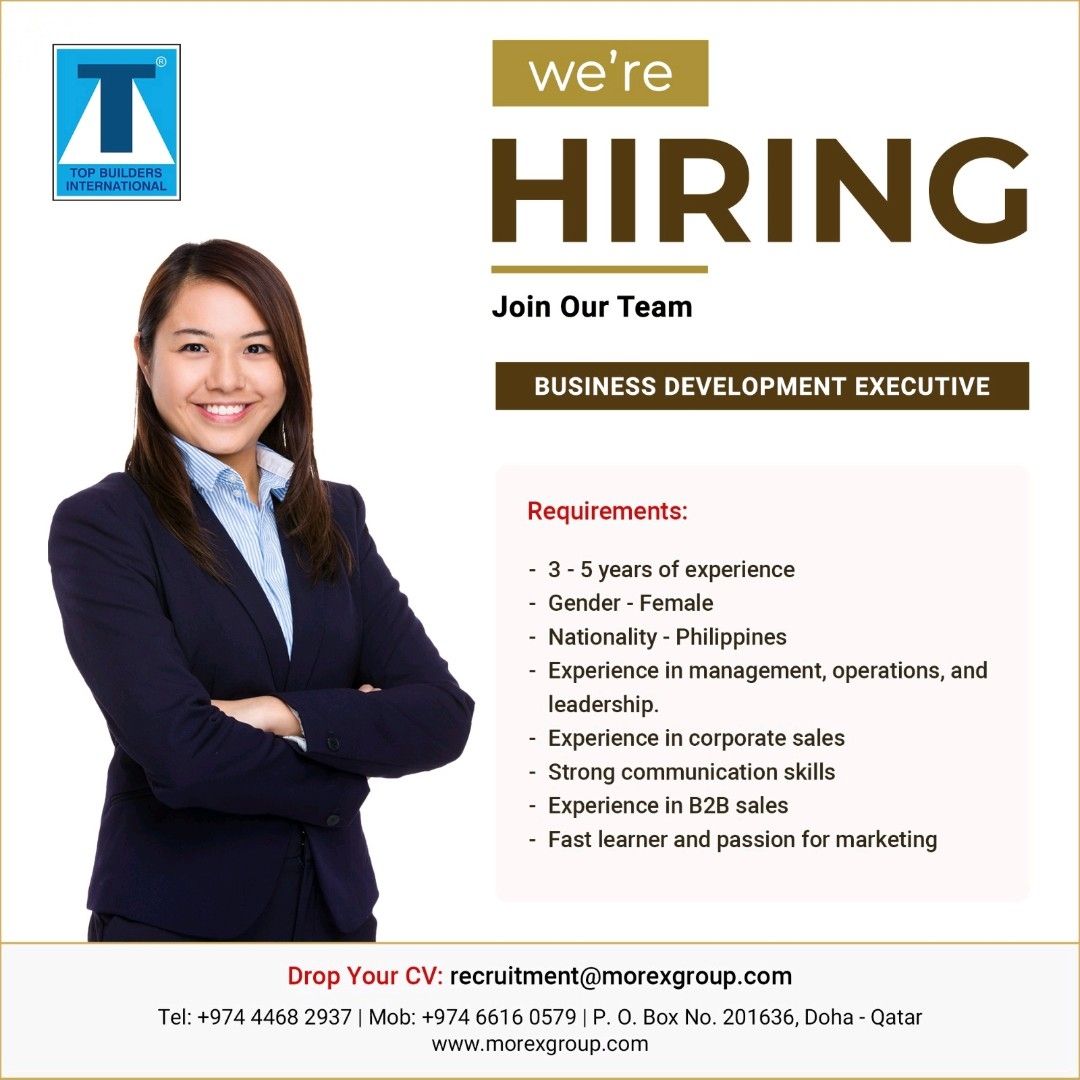 FOLLOW US FOR MORE LIVE UPDATES
Jobs in Dubai – Click Here 
Jobs in Abu Dhabi – Click Here 
Jobs in Doha – Click Here 
Jobs in Qatar – Click Here
Jobs in Saudi Arabia – Click Here 
Jobs in United Arab Emirates – Click Here