Company Info
Large organization
200 + Employees
Zulekha Healthcare Group
Zulekha Healthcare Group Careers in Dubai 2023
About Zulekha Healthcare Group
The Zulekha Healthcare Group found its roots in 1964 when its creator Dr. Zulekha Daud moved from her native India to Sharjah, UAE in order to pursue her dream of serving people in need and offer affordable medical facilities to all.
From a young medical graduate to a practicing physician serving patients from all walks of life, Dr. Zulekha soon became a household name. After years of dedicated service, Zulekha Hospital was first established in Sharjah in 1992.
Here Latest Zulekha Healthcare Group Careers Jobs Openings(11)
01. Internal Medicine 
02. Gynecologist 
03. Staff Nurse 
04. Lab Technician 
05. Medical Coders 
06. Neonatologist – Sharjah 
07. Neonatologist – Dubai
08. Emirati Nurses and Healthcare Professionals
09. Emirati Nurses and Healthcare Professional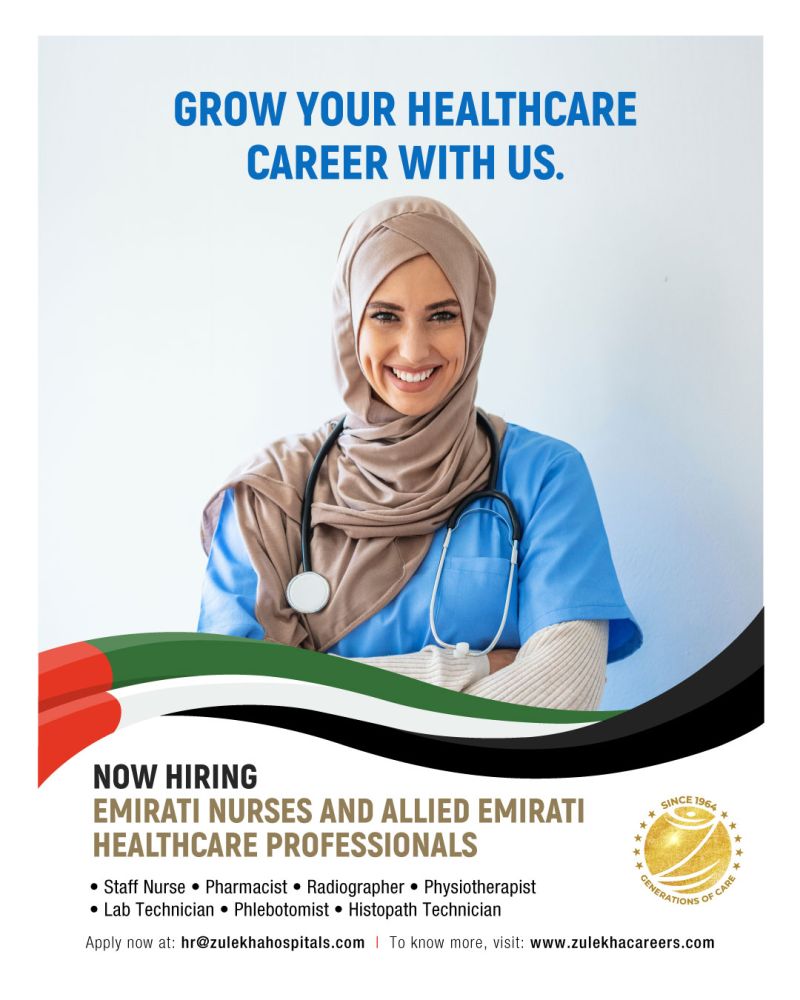 10. hiring experienced Emirati Doctors for various positions at Zulekha Hospital, Dubai & Sharjah.المزيد
11. hiring non-clinical Emirati Professionals for various positions at Zulekha Hospital, Dubai & Sharjah.
Apply now
for various positions at Zulekha Hospital, Dubai & Sharjah. Apply now at hr@zulekhahospitals.com or visit www.zulekhacareers.com 
انضم إلى فريقنا من متخصصي الرعاية الصحية المحترمين. الآن نوظف أطباء إماراتيين ذوي خبرة لشغل مناصب مختلفة في مستشفى زليخة، دبي والشارقة. قدم الآن على hr@zulekhahospitals.com أو قم بزيارة www.zulekhacareers.com لمعرفة
More about Zulekha Healthcare Group
Today, the Zulekha Healthcare Group includes two multidisciplinary hospitals in Dubai and Sharjah, as well as three UAE medical centres and three pharmacies providing specialised treatments in over 30 disciplines. The Group has also established a multidisciplinary Hospital in Nagpur, Central India – Alexis.
Zulekha Hospital Sharjah is a full-fledged, multi-disciplinary hospital with Out-patient and In-patient facilities. What started off as a 30 bed set up with basic facilities for gynecology, obstetrics, surgery, medicine and pediatrics in 1992, today boasts of 185 beds, sprawled over an area of 290,000 square ft.
Zulekha Hospital Dubai is a 140 bed hospital established in 2004 which offers both inpatient and outpatient care covering a wide range of medical and surgical specialties. The facility boasts state-of-the-art operation theatre arrangements, emergency services, labor rooms and includes multiple centers of excellence such as Cardiology, Plastic Surgery, General Surgery, Oncology, Ophthalmology, Orthopedics, Urology, Gastroenterology, Dermatology and Physiotherapy.
Both facilities are specialized in following key services: Cardiac Catheterization Laboratory, Neonatal Intensive Care Units, ICU, Dialysis, Advanced radiology & Laboratory services, Minimal Invasive surgeries, Bariatric Surgeries, Joint Replacement Surgeries, Specialised Cancer Care, Cardio Thoracic and Vascular Surgery, Plastic and Reconstruction Surgery, Pediatric Cardiology, Pulmonology and Chest Diseases, etc
Alexis Multispeciality Hospital in Nagpur, India is an offering and initiative of the Zulekha Healthcare Group, UAE to help serve the entire Central India community by providing the highest quality of medical care across various disciplines. The hospital has a team of renowned specialists and medical personnel supported by latest cutting-edge technology offering all-round care and comfort.
CONNECT WITH Zulekha Healthcare Group
Website – https://www.zulekhahospitals.com/dubai/best-hospital-in-dubai
LinkedIn – https://www.linkedin.com/company/zulekha-hospitals-llc/
Careers – https://www.linkedin.com/company/zulekha-hospitals-llc/
Facebook – https://www.facebook.com/zulekhahospitals
Twitter – https://twitter.com/zulekhahosptls
…
Hospital Jobs in UAE
Aster DM Healthcare Careers UAE
Mediclinic Middle East Careers
NMC Healthcare Careers Jobs Vacancies
Hamad Medical Corporation Vacancies in Qatar
Salma Rehabilitation Hospital Abu Dhabi Careers
King's College Hospital Dubai Careers Jobs Vacancies
DUBAI LONDON HOSPITAL Careers Jobs in Dubai
Al Zahra Hospital Dubai Careers Jobs Vacancies
Saudi German Hospital Dubai Careers Jobs Vacancies
# Livegulfjobs # Liveuaejobs # Gulfjobs # Jobs in UAE # Jobs In Dubai # Vacancies # jobs in Abu Dhabi # Careers # Jobs Vacancies # LinkedIn Jobs # Dubai Job Vacancy # Emirates # Hospital Jobs in Dubai # Nurse Jobs in Dubai
FOLLOW US FOR MORE LIVE UPDATES
Jobs in Dubai – Click Here 
Jobs in Abu Dhabi – Click Here 
Jobs in Doha – Click Here 
Jobs in Qatar – Click Here
Jobs in Saudi Arabia – Click Here 
Jobs in United Arab Emirates – Click Here