Company Info
Educational institution
200 + Employees
Woodlem Park School Dubai
bout Woodlem Park School Dubai
Woodlem Park School provides an inspiring and energizing environment that places the happiness of your child at its heart because a happy child is an engaged child, a child fully able to explore the stimulating world of knowledge and ideas that await at our wonderful school.
Life long learning is at the core of our ethos and every child is encouraged to make every day a positive learning experience as we work to develop and strengthen young minds, whilst nurturing the individual creative power of nascent imaginations.
Latest Woodlem Park School Dubai Careers Jobs Vacancies
01. KG Teachers
02. Homeroom Teachers
03. Music Teachers
04. Dance Teachers
05. Arabic & Islamic Teachers
06. PE Teachers
07. Art Teachers
08. Math Teachers
09. HR Assistant
10. Science Teacher
11. French Teacher
12. English Teacher_ Middle School
13. ART Teacher _High School
14. Administration Manager
15. English specialist who can handle grade 9 and 10.
16. Head of Kindergarten
17. IT Coordinator
18. special Educators
19. Kinder Gaten
20. Head of Kindergarten
21. Head of Primary
22. Head of Middle School
23. Head of Secondary
24. School Nurse AND
Islamic Studies HOD
Arabic Teachers – Primary and Middle
Islamic Studies – Grade 3, 4 & 5
English Teacher – Grade 9 & 10
English Teacher – Grade 3, 4 & 5
Social studies Teacher – Grade 4, 5 & 6
Hindi – Middle school
French – Grade 5 & 6
PE Female – Middle School
ART teacher – Middle school
Science – Grade 4 & 5
Tamil teacher – Grade 6 & 7
English Teacher _ Middle
English Teacher _ Primary
Hindi Teacher _ Primary
Kindergarten Teachers
French _ Primary
Social Studies Teacher
English Teacher _ Secondary
Secondary maths teacher
25. HR Coordinator
26. Head of Administration
27. Head of Primary
28. Arabic Secretary
29. Special Educator
Woodlem Park School Al Jurf, Ajman
Islamic Studies Teacher – Bachelor in Islamic studies (Female)
French Teacher – Bachelor in French Language (Female)
Art Teacher – Bachelor of Fine Art (Female)
PE Teacher – master's in physical education (Female)
Music Teacher – BA Music (Female)
Dance Teacher -BA in any dance forms (Female)
Job Details Here
Please send your resumes to careers@woodlemdubai.ae
We are looking for a Business and Accounting Teacher to join our team at Woodlem Park School, Ajman.
The successful candidate will have:
Master Degree and a certified teaching qualification
Proven experience teaching Business & Accounting
exceptional subject knowledge
are looking for an HR Assistant to undertake a variety of HR administrative duties.
HR Assistant skills we're looking for include excellent organization ability, familiarity with HR software and strong communication skills.
If you are interested we would welcome your application
Please send your application along with your updated resume to careers@woodlempark.ae
Secondary maths teacher
The Ideal Candidate must have:
• Master's degree in mathematics with B.Ed. or equivalent teaching qualification
• At least 2 years teaching experience in the same role
• Experience in teaching the CBSE schools
• An ability to build robust relationships with students and parents
Kindly send your CV to: careers@woodlemdubai.ae
If your application has been successful, we will contact you within 7 days.
Head of Administration
An upcoming British curriculum school in Ajman is looking for a Head of Administration.
The Administrative Head ensures the fiscally sound running of the operational and administrative affairs of the school in effectively supporting the delivery of the school's instructional program. He supports the School Principal and is part of the school leadership team (SLT).
If interested please send a cover letter and CV to careers@woodlempark.ae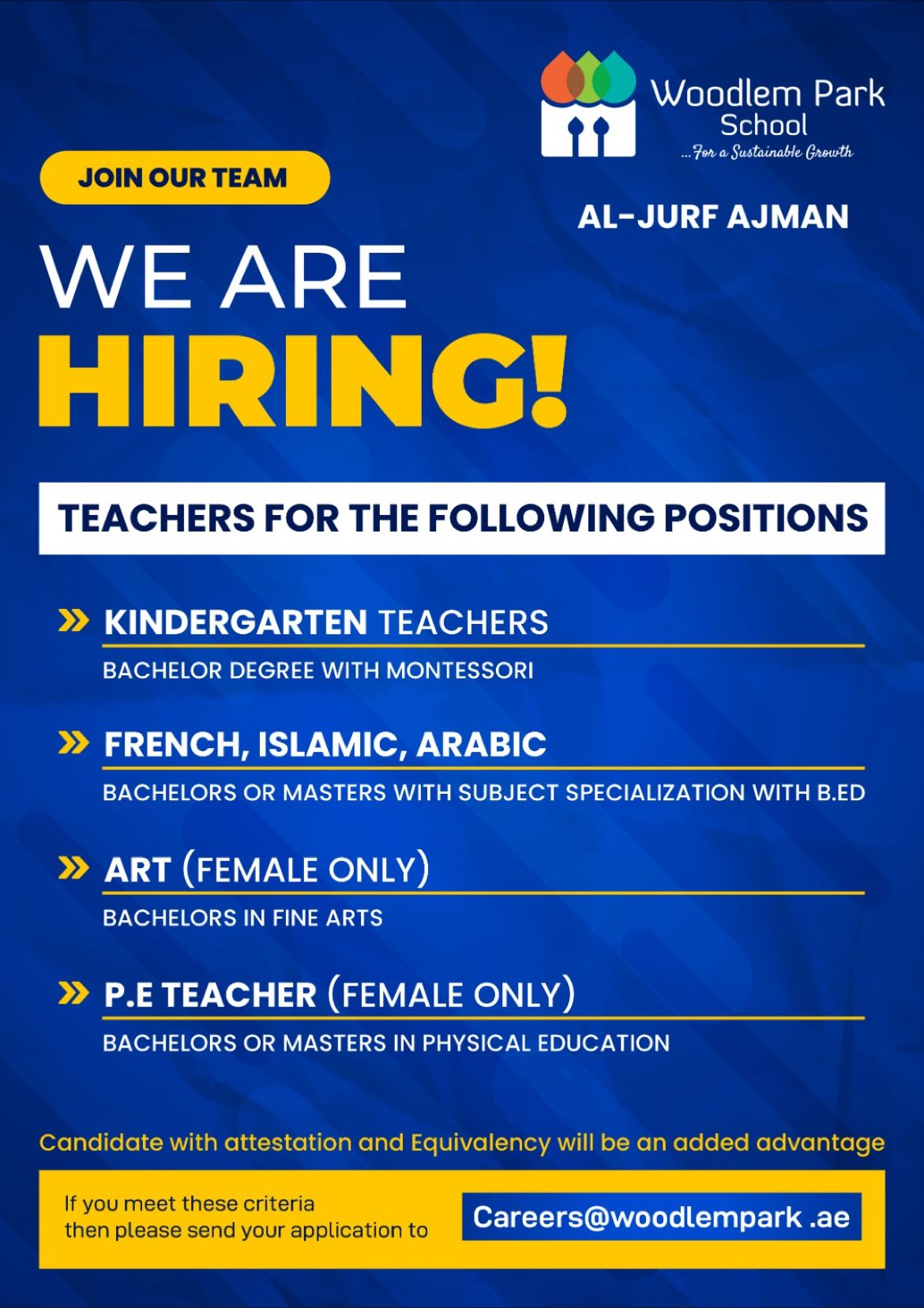 FOLLOW US FOR MORE LIVE UPDATES
Jobs in Dubai – Click Here 
Jobs in Abu Dhabi – Click Here 
Jobs in Doha – Click Here 
Jobs in Qatar – Click Here
Jobs in Saudi Arabia – Click Here 
Jobs in United Arab Emirates – Click Here