Company Info
Large organization
200 + Employees
Aster Pharmacy
Job Positions – Walk-in interview for Pharmacists – Aster Pharmacy
Job Details Here
Aster Pharmacy invites DOH / HAAD, licensed/eligible Pharmacists & Sales Promoters for a walk-in interview
Date: Wednesday, 9th March 2023; 10:00 AM – 01:00 PM.
Eligibility Criteria:
– Pharmacists with DOH/HAAD license or eligibility only
– Sales Promoters/Pharma Executives with minimum 6 months of sales experience in Beauty/Pharmacy/Skincare only.
Location: Aster Pharmacy, Abu Dhabi Branch 8 (Canon), Electra Street, Opposite Grand Mercure Majilis Hotel, Abu Dhabi
Documents to carry: Updated Resume
*Please note this walk-in is only for candidates meeting the eligibility criteria, candidates applying for other positions and candidates who have already attended any walk-in with us, will not be eligible to attend this walk-in.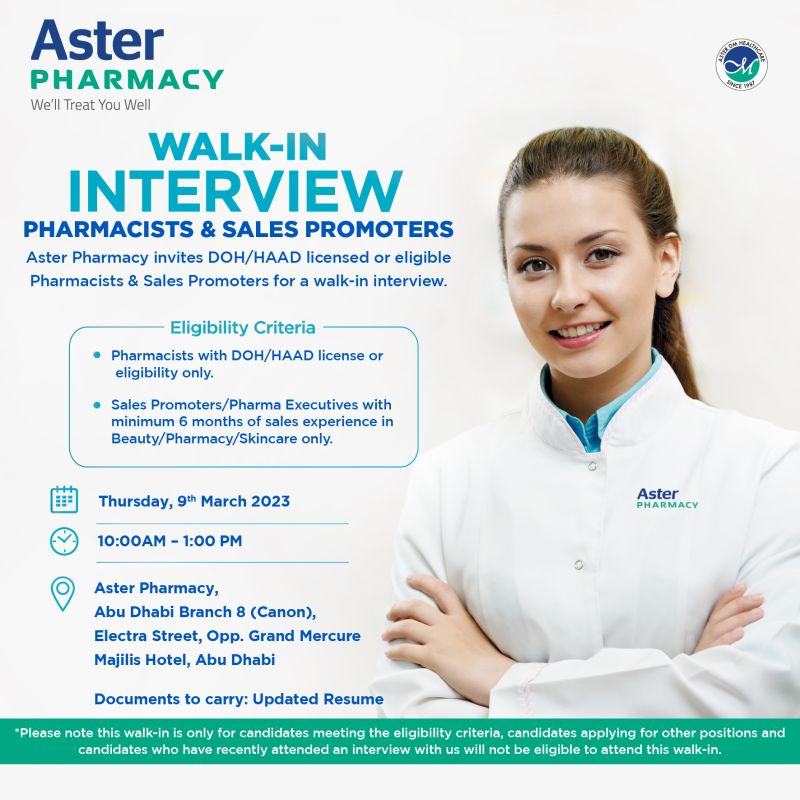 FOLLOW US FOR MORE LIVE UPDATES
Jobs in Dubai – Click Here 
Jobs in Abu Dhabi – Click Here 
Jobs in Doha – Click Here 
Jobs in Qatar – Click Here
Jobs in Saudi Arabia – Click Here 
Jobs in United Arab Emirates – Click Here