Company Info
Large organization
200 + Employees
unitedmedical
Job Position – Receptionist
Job Details Here
Urgently looking for a Front Desk Receptionist with the following criteria:
Mandatory:
– UAE National
– Female Candidate
– Immediate availability to join
– Must be able to speak Arabic and English
– Minimum 1 to 2 Year UAE Experience working in an outpatient facility
– Book patient appointments in person, via email, Whatsapp, or telephone.
– Developing knowledge of customer needs and trends to improve customer satisfaction and loyalty.
– Ability to convey a positive and professional image to customers and employees.
– Effectively communicate with patients, physicians, and other staff – within the clinic & external facilities – providing accurate, timely, and responsive information.
– Understanding the insurance process, ICD-10, and CPT codes and submission of pre-approvals.
Preferred:
– Candidates who speak a third language
Candidate meeting the above criteria, please share your cv with hrd@unitedmedical.ae and rand.chaban@unitedmedical.ae.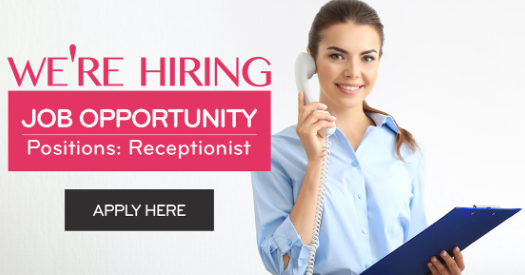 FOLLOW US FOR MORE LIVE UPDATES
Jobs in Dubai – Click Here 
Jobs in Abu Dhabi – Click Here 
Jobs in Doha – Click Here 
Jobs in Qatar – Click Here
Jobs in Saudi Arabia – Click Here 
Jobs in United Arab Emirates – Click Here