Company Info
Large organization
200 + Employees
Al Ghurair Group
Job Positions – Open Day Walk in Interview in DUBAI
Male Cleaners
Cleaning Machine Operates
Senior HVAC Technician
Senior Plumber
Senior Electrician
MEP Team Leader
Plumbing Team Leader
MEP Technician BMS Operator
CAFM Operator
HVAC Technician
Electrical Technician ELV Technician
Jr. Electrical Technician Jr. HVAC Technician
Mechanical Technician
Carpenter
Plumber
Soft Services supervisor (Male & Female)
Soft Services Team Leader (Male & Female)
Job Details Here
Walk in Interview
Al Ghurair Food is conducting Open Day Interview for Van Salesmen, Merchandiser and Helper position on 4th Feb 2023 from 9:00 am to 3:00 pm.
While attending interview please keep your CV, Passport copy, photo with white background, driving license and visa.
For location please scan the QR Code from Below image.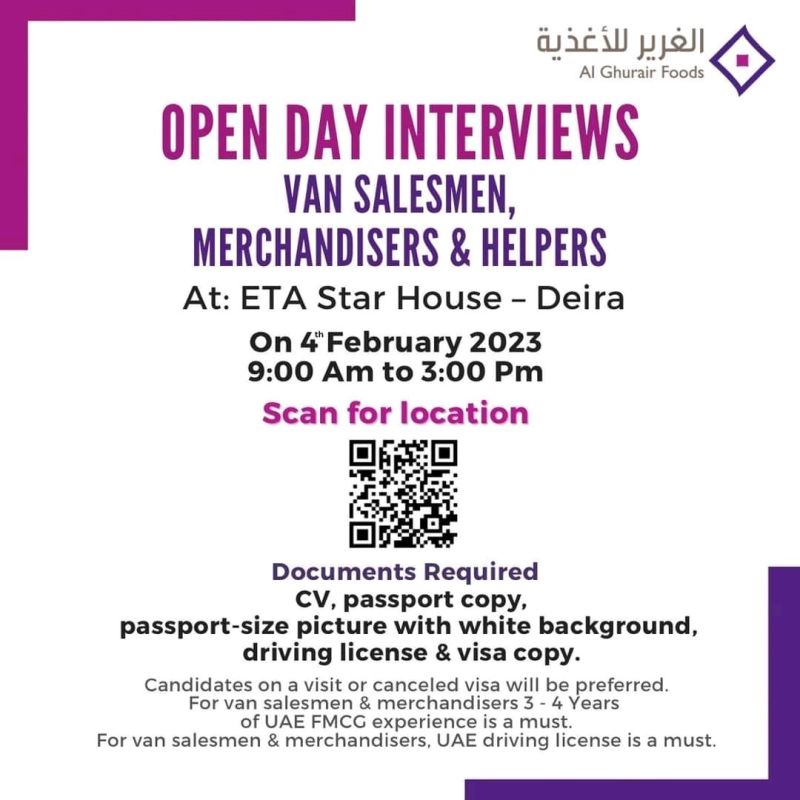 FOLLOW US FOR MORE LIVE UPDATES
Jobs in Dubai – Click Here 
Jobs in Abu Dhabi – Click Here 
Jobs in Doha – Click Here 
Jobs in Qatar – Click Here
Jobs in Saudi Arabia – Click Here 
Jobs in United Arab Emirates – Click Here