Company Info
Large organization
200 + Employees
Neuro Spinal Hospital (NSH-Dubai)
Neuro Spinal Hospital Careers Jobs Vacancies
Behind this success stands a group of multinational staff who are dedicated to working together as a problem solving team, with patients and their families, to provide the highest level of care and support through advanced technology and an evidence-based approach to medicine, all in a compassionate and healing atmosphere.
Neuro Spinal Hospital is the hospital of choice for patients who seek:
Expert care for complex or challenging neurological, spinal, orthopedic and oncology conditions.
A holistic approach to medical care.
Multinational clinical team.
Evidence-based medicine care in a world-class facility.
Cutting-edge technology.
Committed to bringing the latest in neurosciences and staying responsive to the needs of the community, we have launched our dream project with a new 114-bedded facility that bringing to the region much needed specialties such as Radiosurgery.
Latest Neuro Spinal Hospital Dubai Careers Jobs Vacancies
01. Insurance Coordinator
02. Medical Oncologist
03. Female Physiotherapist
04. HR Officer
05. Re-Submission Officer
06. Radiation Therapist
07. HR Officer
Job Details Here
Insurance Coordinator.
Requirements:
Nursing Degree/ Certification in Medical coding.
Minimum two years of work experience in the UAE.
……….
Medical Oncologist
Requirements:
– MD/Ph.D. with board certification in oncology.
– DHA Eligibility.
– Up-to-date working knowledge of cancer treatment.
نود التعاقد مع أطباء متخصصين في علاج الأورام.
المؤهلات المطلوبة:
– أن يكون حاصلاً على شهادة الماجستير، أو الدكتوراه، وشهادة البورد في علم الأورام
– أن يكون مرخصاً من هيئة الصحة في دبي
– أن يتحلى بمعرفة عملية بالأساليب الحديثة المتبعة في علاج السرطان
……….
Female Physiotherapist.
Requirements:
✔️ Minimum 2-4 years of relevant experience in Pediatrics/ Neurology / Scoliosis with DHA eligibility.
Interested candidates, please drop your CV at careers@nshdubai.com
HR Officer
Key Requirements:
*Minimum 2-3 years of working experience in UAE with hospital or any healthcare facility.
* Bachelor degree in HR, or equivalent qualification in the same field is mandatory.
* Good knowledge of UAE labor law.
* Excellent command of both spoken and written English.
* Preferred female candidates.
Availability:Immediate joiners only.
Location:Neuro Spinal Hospital, Dubai, UAE
Interested candidates please share your CV to careers@nshdubai.com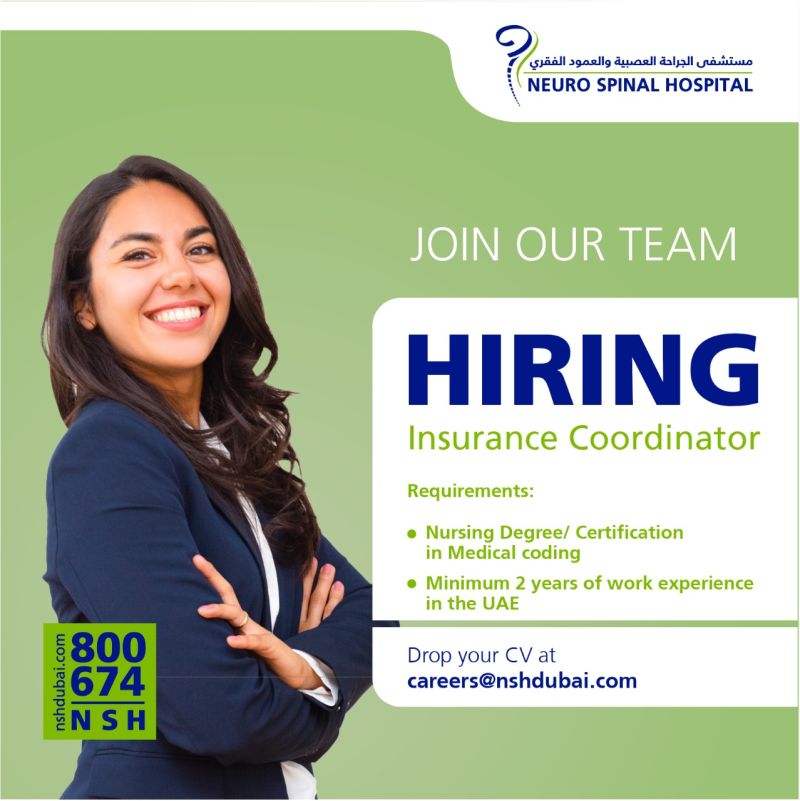 FOLLOW US FOR MORE LIVE UPDATES
Jobs in Dubai – Click Here 
Jobs in Abu Dhabi – Click Here 
Jobs in Doha – Click Here 
Jobs in Qatar – Click Here
Jobs in Saudi Arabia – Click Here 
Jobs in United Arab Emirates – Click Here