Company Info
Large organization
200 + Employees
LIFENITY INTERNATIONAL
Job Position – Lead Technologist
Job Details Here
Position – Lead Technologist
Qualification
MSC/MLT
Role –
• Day to day sample processing, DNA/RNA extraction, TAT maintenance, should have hands-on experience in Sanger Sequencing, Ion S5 Plus, Illumina NGS, iScan, Genetitan.
Required Experience –
• Min 5 years experience in genetic diagnostic lab
Additional Requirements –
• Should have experience on CAP & DHA for EQA-PT documentation.
.
Send your job application to hr@lifenity.ae mentioning the position in the email subject line.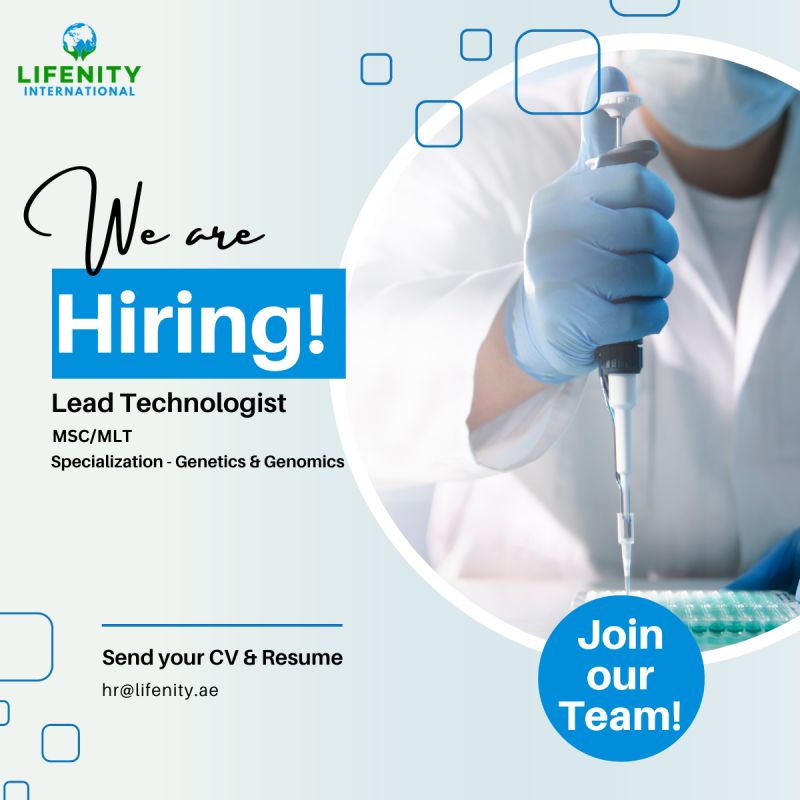 FOLLOW US FOR MORE LIVE UPDATES
Jobs in Dubai – Click Here 
Jobs in Abu Dhabi – Click Here 
Jobs in Doha – Click Here 
Jobs in Qatar – Click Here
Jobs in Saudi Arabia – Click Here 
Jobs in United Arab Emirates – Click Here