Company Info
Large organization
200 + Employees
Emirates Consulting Group
Emirates Consulting Group Careers Jobs Vacancies
We are committed to supporting advancing the economic and talent growth of the UAE and increasing the participation of Emirati nationals in the private sector. We offer real career opportunities for Emiratis to work alongside people from many different nationalities.
Latest Emirates Consulting Group Careers Jobs Vacancies
1. Executive of Excellence & Quality
2. Executive of Compliance & Follow Up
3. Executive of Parents & School
4. Legal Executive
5. A to Z Permit Service Specialist
6. Project Co-ordinator
7. Representative ( Customer Relations)
8. Accountant
9. HR Executive
10. Compliance Controller
11. Feedback Case Manager.
12. Leasing Executive
13. Procurement Manager
14. HR Admin
15. Net Developer
16. IT Support
17. Data Center operator
18. HR Generalist
19. IT Products sales promoter
20. Prestigious Client
21. Freelancers
22. Outdoor Sales Representative
23. Human Resource Consultant
24. Tele sales Executive
25.  Financial Controller
26. CFO / Financial Specialis
27. Mall Operations Manager
28. Administrative Assistant
29. Lab Technician
30. Cashier
31. Driver
32. AutoCAD Designer
33. Talent Management Specialist
34. Office Assistant
35. real estate agents
36. Investment Director
37. Associate Analyst
38. management Process Engineering Specialist
39. Financial Analyst
40.Risk Specialist
41. Survey Executive
42. Chief Accountant
43. Assistant Finance Manager
44.  IT Executive
45. HR Assistant
46. Technical Writer
47. HR Executive
Job Details Here
Interested Candidates can send their CVs to hazel.f@ecg.ae
**Only shortlisted candidates will be notified.
Prestigious Client
Key Responsibilities:
·        Provide strategic guidance and vision for the company
·        Lead a talented team of professionals
·        Develop and execute effective business plans
·        Identify new opportunities for growth
·        Build strong relationships with key stakeholders
Qualifications:
·        Bachelor's or Master's degree in a related field
·        At least 10 years of experience in a leadership role
·        Excellent communication and interpersonal skills
·        Strong problem-solving and analytical abilities
·        A track record of making decisions that drive business success
Please submit your resume and cover letter to hanane.d@ecg.ae  and our team will be in touch.
Human Resource Consultant 
Min 5 years of experience in sales in UAE
Responsible to implement strategic HR plans, policy and technology.
The ideal HR Consultant will possess in-depth knowledge of human resource management.
Experience in consulting as well as dealing with actual HR issues.
Interested candidates can send their CVs to abhinav.j@ecg.ae
Financial Controller
Essential Requirements
-Preferred a qualified CA / CPA / MBA or equivalent
-5 years or more relevant experience.
-Accounting knowledge, IFRS Knowledge
-Controlling experience
-Strong analytical skills
-Advanced MS Excel/PowerPoint
skills
requirements can send their cv to hazel.f@ecg.ae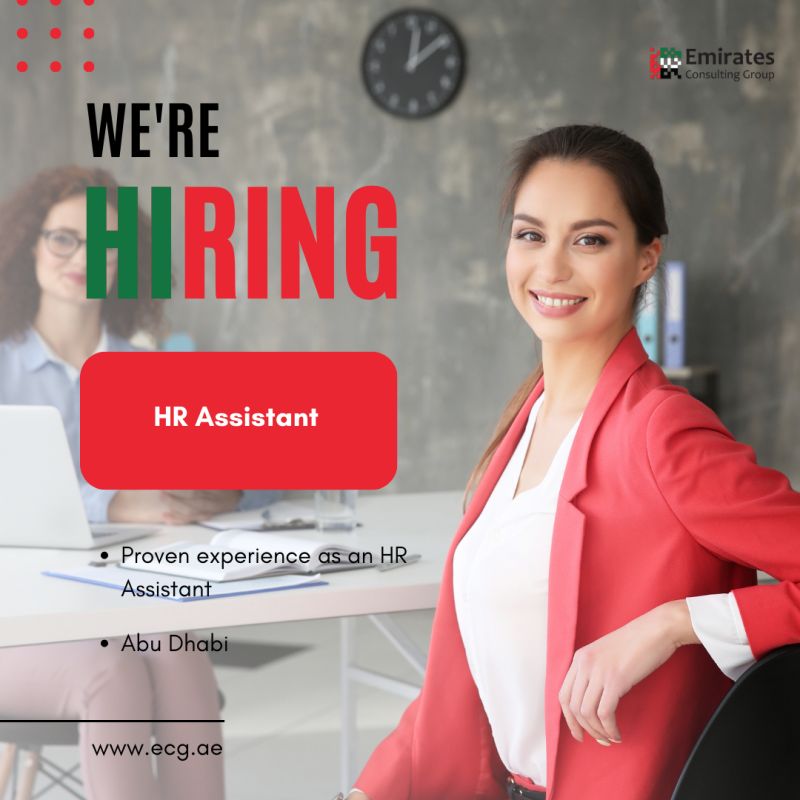 FOLLOW US FOR MORE LIVE UPDATES
Jobs in Dubai – Click Here 
Jobs in Abu Dhabi – Click Here 
Jobs in Doha – Click Here 
Jobs in Qatar – Click Here
Jobs in Saudi Arabia – Click Here 
Jobs in United Arab Emirates – Click Here