Company Info
Large organization
200 + Employees
ADMS
Job Position – Draftsman
Job Details Here
Key Responsabilities:
·  Interface with lead engineers from maintenance, operation and engineering to define the drawing changes and update them as per the existing power plant arrangement.
·  Execute the changes in the drawings.
·  Organize the management of change (MOC) by closing pending MOC requests and reviewing previously closed ones.
·  Create new drawings from scratch if required.
·  Understand the power plant process.
·  Provide drafting expertise.
·  Perform drawing checking and reviews.
·  Perform field evaluations.
·  Provide the new documentation and relevant technical drawings to mechanical, electrical, structural.
Email the resume  – jobs@admsuae.com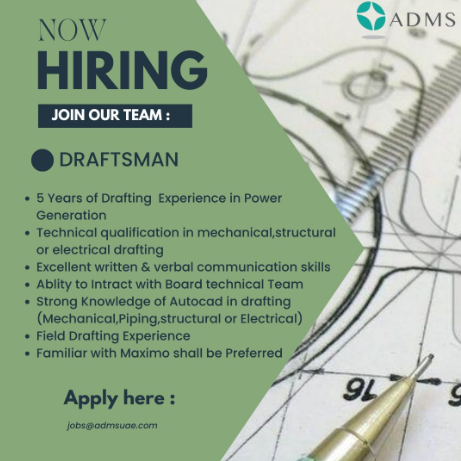 FOLLOW US FOR MORE LIVE UPDATES
Jobs in Dubai – Click Here 
Jobs in Abu Dhabi – Click Here 
Jobs in Doha – Click Here 
Jobs in Qatar – Click Here
Jobs in Saudi Arabia – Click Here 
Jobs in United Arab Emirates – Click Here