Company Info
Large organization
200 + Employees
Crowne Plaza Dubai
Crowne Plaza Dubai Careers Jobs Vacancies
Latest Crowne Plaza Dubai Careers Jobs Vacancies
Health Club Receptionist
Cost Controller
Interns (Finance)
Guest Service Agent
Waiter/Waitress
Demi Chef de Partie (1 for Pastry & 1 for Gardemanger)
Steward
Housekeeping Attendant
Laundry Attendant
Bell Boy
Driver
Guest Service Agent
Environment Health & Safety Manager
Female Hostess
Front office Supervisor
Front Desk Receptionist
Operator
Bartender
Job Details Here
The candidate must be in UAE.
YOUR DAY TO DAY
· Supervises the functioning of all stewarding department employees, facilities, operation and costs
· Controls, on an on-going basis – Quality level of product and service, guest satisfaction, sanitation, cleanliness and hygiene. · Establishes and maintains such systems and methods of operation as are necessary to supply all outlets and production areas with clean, correct, and timely miss-in placed, minimizes cost through breakage, loss and excessive chemical usage and appropriate staff levels.
· Establishes and maintains effective employee relations.
· Conducts, under the guidance of the Director of Food and Beverage, such functions as hiring specific levels of employees, employee orientation, on -the – job performance appraisal, coaching, suspension if necessary to ensure appropriate staffing and productivity.
Relevant experience of 1-2 years in the hotel industry and good communication skills are required.
Send in your updated CV to career@crowneplazadubai.com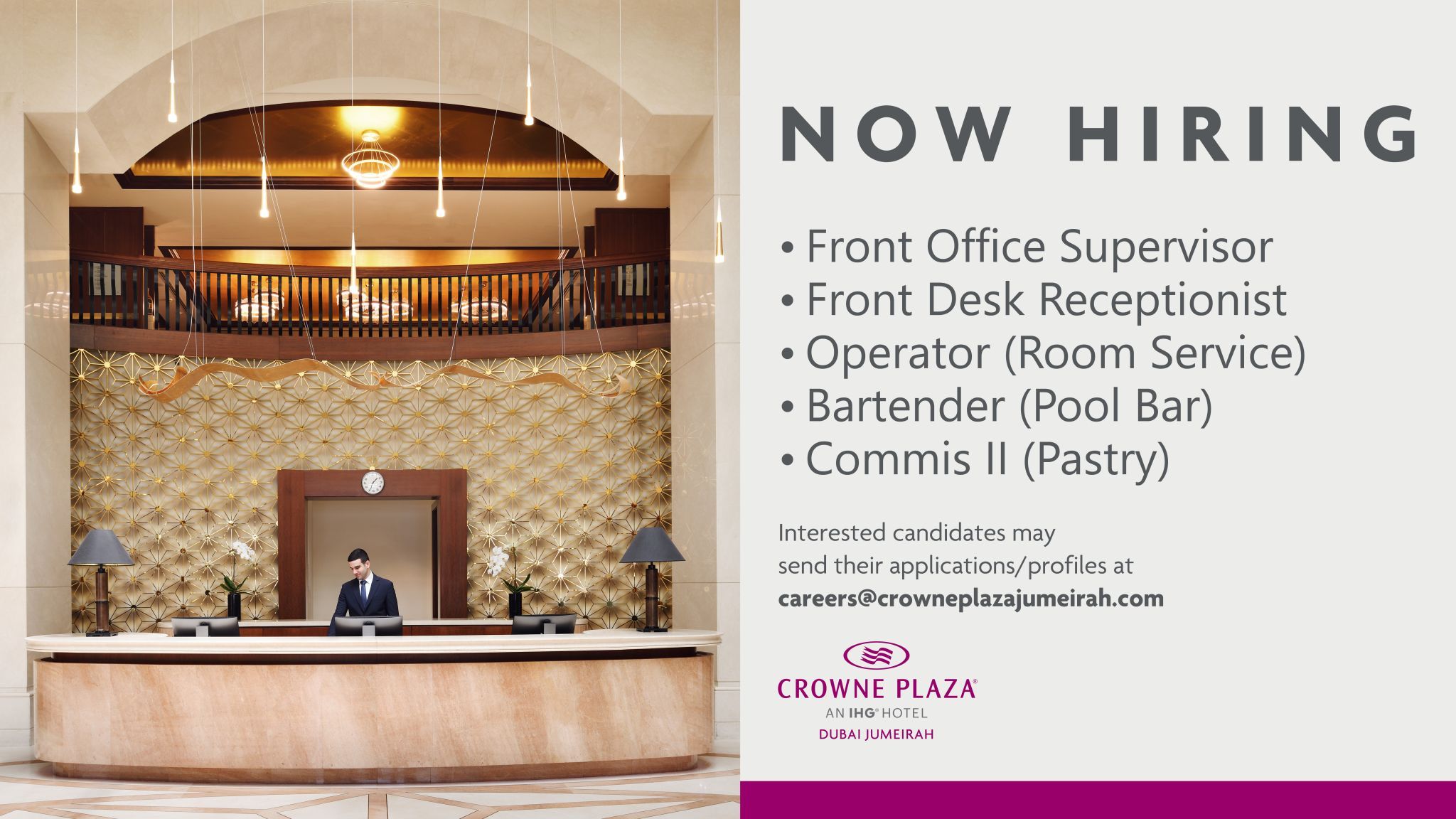 FOLLOW US FOR MORE LIVE UPDATES
Jobs in Dubai – Click Here 
Jobs in Abu Dhabi – Click Here 
Jobs in Doha – Click Here 
Jobs in Qatar – Click Here
Jobs in Saudi Arabia – Click Here 
Jobs in United Arab Emirates – Click Here