Company Info
Large organization
200 + Employees
Pact Employment Services
Pact Employment Careers Jobs Vacancies
Pact is an acknowledged leader in Middle East's recruitment industry. Trusted by top banks, financial institutions and multinational companies for all their recruitment needs, we offer a range of top notch recruitment services that connect top quality candidates with clients looking to fill key positions in their organizations every day.
Latest Pact Employment Careers Jobs Vacancies
Account Assistant
Nanny
Operations Executive
HR Recruiter
Team Leader
Senior Technical Analyst
Business Development-Head
Sales Executives
Relationship officer
Senior Relationship Officer
Call Center/Contact Center
Multiple
Office Boys
Processing Specialist
Relationship Manager
Customer Service Executive
Telesales officer
Data Management Analyst
Drivers – UAE Experience candidates only.
Job Details Here
Email the resume : mahek@pactemployment.ae
Nanny
Age between 30-40 years old.
-Should have good experience and exposure to baby and childcare.
-Should be fluent in English. Other languages will be an added advantage.
-Pleasing personality.
-Trained or have done any Course in baby and childcare will be an added advantage.
FOR MORE INFORMATION CONTACT:
Kris@pactemployment.ae  
+971 54 308 9335
Operations Executive
-At least 1 year of experience in operations in the manpower industry is preferred.
-Should have Strong knowledge of VLookup, HLookup, Pivot, ifelse, countif formula and other advance excel skills.
-Should be fluent in English & Hindi.
-Home country experience will also be considered.
-Should be immediately available to join.
APPLY NOW
Send Your CV To: info@pactemployment.ae
HR Recruiter
Interested candidates please share resume on sunanda@pactemployment.ae with subject "Recruiter"
Team Leader
-Minimum 2 years of experience as Team leader in outdoor sales of Telecom – SMB products in the UAE market required.
-Candidate should be target-oriented and self-initiator.
-Experience in delivering client focused solutions based on customer needs.
-Completed Bachelor's degree.
-Strong personality and excellent
selling skills.
Job Types: Full-time, Permanent
Salary: Fixed Monthly Salary + Incentives
Submit your CV: mahek@pactemployment.ae
Processing Specialist 
Experience –
5-6 years plus experience in banking operations at an asset management or financial services team.
Familiarity with banking procedures and in house systems like Finacle, SWIFT, Smart Business
Candidates meeting the criteria, may share their resume on sunanda@pactemployment.ae with subject "Processing Specialist".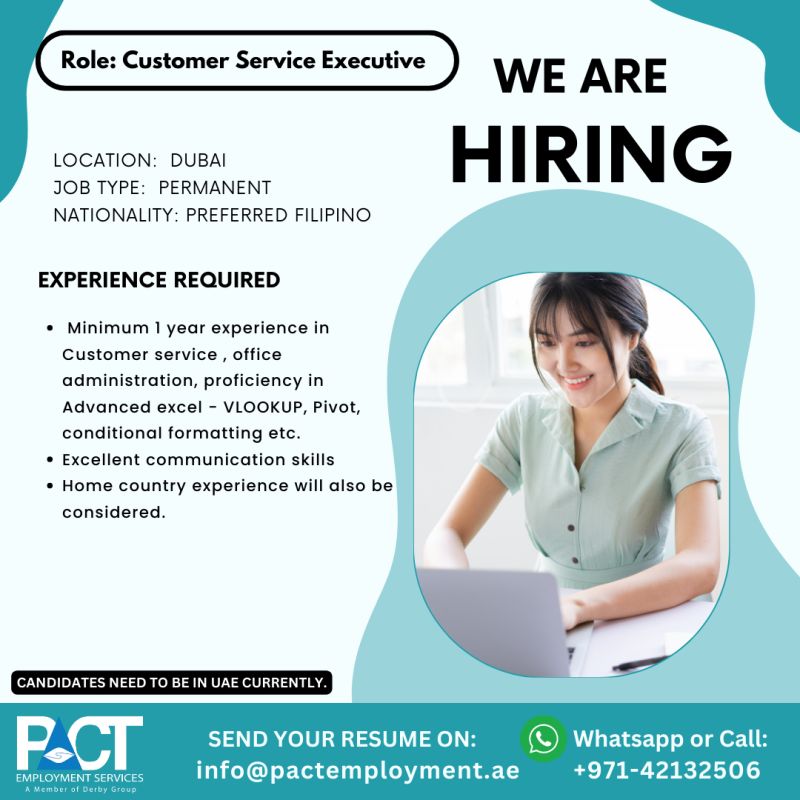 FOLLOW US FOR MORE LIVE UPDATES
Jobs in Dubai – Click Here 
Jobs in Abu Dhabi – Click Here 
Jobs in Doha – Click Here 
Jobs in Qatar – Click Here
Jobs in Saudi Arabia – Click Here 
Jobs in United Arab Emirates – Click Here