Company Info
Large organization
200 + Employees
JAZAL GROUP
Job Positions –  Jazal Engineering & Contracting L.L.C Careers Jobs Vacancies
1. Mep Supervisor
2. Project Enjineer Civil
3. Project Manager
4.  Procurement Engineer
5. Civil Engineer
6. Ducting
7. Planning Engineer
8. Accountant
9. Estimation Engineer
10. Facility Maintenance Supervisor
11. Procurement Engineer
12. QA/QC Engineer
13. Document controller
14. Site Engineer
15. B.Techin Civil Engineering
16. Site Civil Engineer
17. Female nursing Assistant
18. Senior Project Engineer
19. HSE Engineer
20. Draftsman Electrical
Job Details Here
Email the resume : careers@jazalec.gmail.com
Ducting 
Minimum 8 years GCC experience in building construction industry.
Perform ducting installation and maintenance (GI Duct, PI Duct, Fire Duct, MS Duct, etc.
Ensure correct installation practices according to standards and safety measures.
Supervise duct workers
Location : ABU DHABI
Candidates ready to join immediately, please apply :
career@jazalec.com
ACCOUNTANT – ABUDHABI
Looking for an Accountant for our Abu Dhabi operations. Candidates should have minimum 2 years UAE experience, preferably in construction industry..
Should be Commerce graduates.
Apply : career@jazalec.com
Procurement Engineer
Overall responsibility to procure materials and plant (project specific or otherwise) to the correct quality and within the budget allocated and time frame.
– Prepare comparative reports with different options regarding subcontractors, material providers…
– Ensure that the correct materials are ordered for the project.
– Liaise with contracts/and suppliers/subcontractors to ensure the delivery of the materials within the required timeframe.
– Follow up for final closeout documentation from suppliers and subcontractors.
– Knowledge of xpedeon like ERP for LPO Preparation.
Apply : career@jazalec.com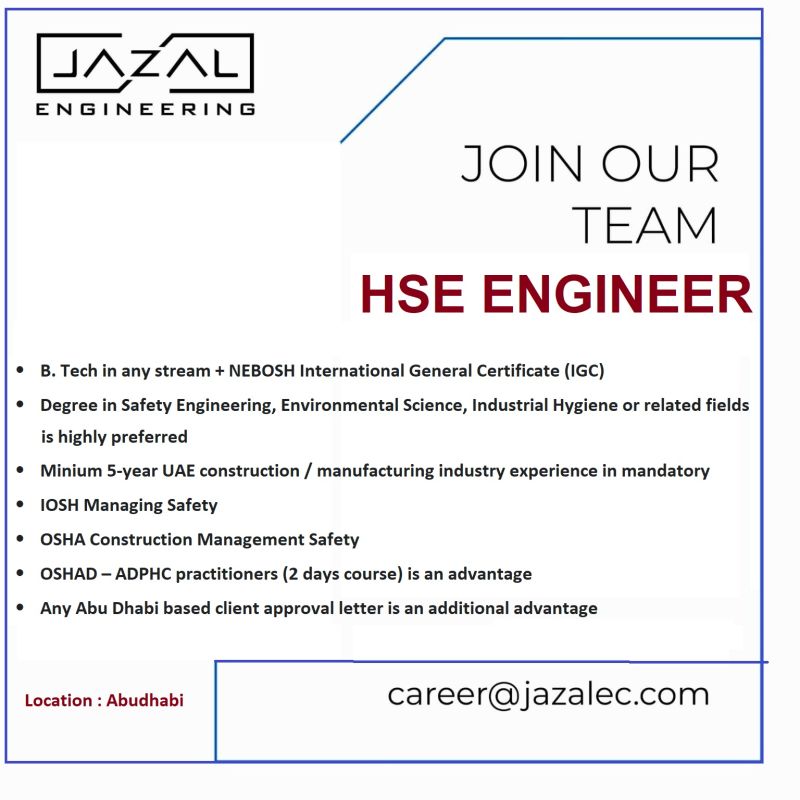 FOLLOW US FOR MORE LIVE UPDATES
Jobs in Dubai – Click Here 
Jobs in Abu Dhabi – Click Here 
Jobs in Doha – Click Here 
Jobs in Qatar – Click Here
Jobs in Saudi Arabia – Click Here 
Jobs in United Arab Emirates – Click Here