Company Info
Large organization
200 + Employees
Bareen International Hospital
Bareen International Hospital Careers Jobs Vacancies
Bareen International Hospital is a fast growing healthcare division based in Mohammed Bin Zayed City – Abu Dhabi, UAE.
Bareen's goal at is to create a workforce of career-driven and committed individuals, who work as a team to achieve the company's common goals. Our ideal candidate will have the drive to contribute to the growth of a forward thinking and promising company and to grow with it.
Job Positions
01. Registered Nurse
02. Radiographer
03. OB GYNE Specialist
04. insurance coordinator
05. Specialist Obstetrics & Gynecology
06. Specialist Radiologist
07. Specialist Orthopedics
08. Registered Midwife
09. NICU Nurses
10. Talent Acquisition Specialist
11. EEG Technician
Job Details Here
Requirements:
1. Must have DOH License
2. Preferably can join immediately.
Kindly send your CV to this Email address below:
careers@bareenhospital.ae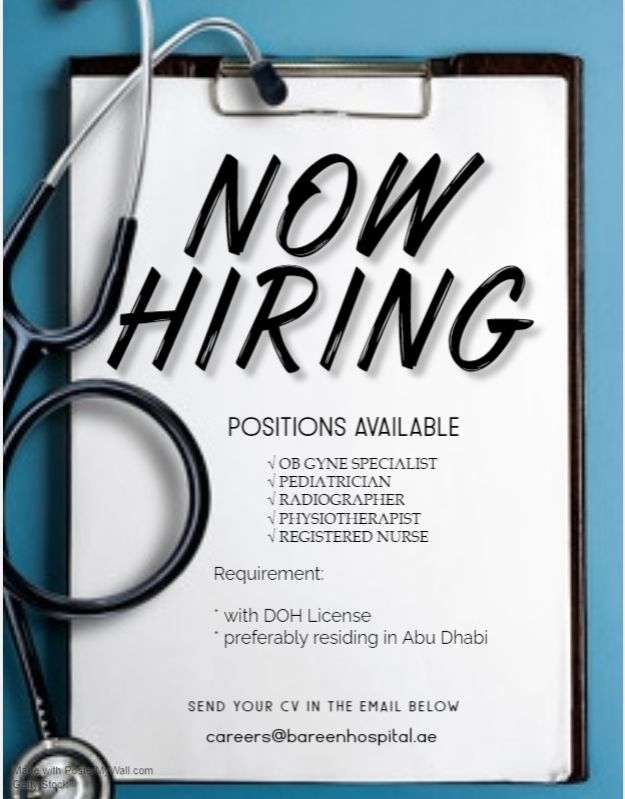 FOLLOW US FOR MORE LIVE UPDATES
Jobs in Dubai – Click Here 
Jobs in Abu Dhabi – Click Here 
Jobs in Doha – Click Here 
Jobs in Qatar – Click Here
Jobs in Saudi Arabia – Click Here 
Jobs in United Arab Emirates – Click Here