Company Info
Large organization
200 + Employees
Duncan & Ross
Job Positions
1. CIVIL 3D COORDINATOR/MODELLER – https://lnkd.in/dDQRQXde
2. ARCHITECTURE MODELERS FITOUT – https://lnkd.in/gtT8QfFQ
3. DEWATERING ENGINEER – https://lnkd.in/g7qBM5Q8
4. HYDRAULIC ENGINEER –https://lnkd.in/g3PehTjr
5. MATERIALS ENGINEER – https://lnkd.in/g9Dfy66u
6. PROJECT ENGINEER FIT OUT – https://lnkd.in/guf8–hX
7. QAQC MANAGER FIT OUT – https://lnkd.in/gn29XDnT
8. ROAD DESIGN ENGINEER – https://lnkd.in/gbrnEYze
9. SENIOR ARCHITECT FITOUT – https://lnkd.in/gkJc3jx3
10. SENIOR CIVIL ENGINEER – https://lnkd.in/g2uux-dq
11. SENIOR ELECTRICAL ENGINEER – https://lnkd.in/g7hwqu9c
12. SENIOR DOCUMENT CONTROLLER – https://lnkd.in/g-SM6Wau
13. SAP PROGRAMME DIRECTOR – Click Here 
14. LANDSCAPE DRAFTSMAN
15. Project Dossier Coordinator – https://lnkd.in/dYiE9KrG
16. DOCUMENT CONTROLLER
17. Interior Design BIM Modeler
18. Mechanical Draftsman
19. Electrical Draftsman
20. Mechanical Engineer – Site Supervision
21. Safety Officer
22. QC Mechanical Officer
23. SENIOR PLANNING MANAGERS
24. FIREFIGHTING BIM MODELER
25.ELECTRICAL BIM MODELER
26. HVAC BIM MODELER
27. Senior Road Engineer
28.  Project Controls
29. Mechanical Draftsman 
30. MEP Coordination Draftsman
31. HVAC Draftsman
32. Plumbing Draftsman
33. Electrical Draftsman
34. Fire Alarm System Testing
35.Commissioning Engineer
36. INSTRUMENTATION DESIGNER – Minimum 5 years Instrumentation & Control engineering experience 
37. INSTRUMENTATION ENGINEER – Minimum 5 years Instrumentation & Control engineering experience 
38. Talent Acquisition Specialist.
39. QUANTITY SURVEYOR
Temporary duration
IMMEDIATELY AVAILABLE with valid visa & QID
Please send your profile if you can join immediately and with ashghal project experience only at alyssa.aldecoa@duncan-ross.com
Job Details Here
To Apply, please send your CV to:
may.diez@duncan-ross.com
# Livegulfjobs # Liveuaejobs # Gulfjobs # Jobs in UAE # Jobs In Dubai # Vacancies # jobs in Abu Dhabi # Careers # Jobs Vacancies # LinkedIn Jobs # Dubai Job Vacancy # Emirates
Interior Design BIM Modeler
Please send your cv to:
kayna.formentera@duncan-ross.com
Applicants must be locally available in UAE Can join within 1 week
SENIOR PLANNING MANAGERS
Requirements:
– Experience in International PMC/Consultancy
– BSc in Construction Management, Engineering, Architecture, or equivalent
– Minimum of 12+ years relevant experience
– Mixed-use development project experience
– GCC experience is mandatory
– Construction and project management background
– Excellent English communication skills
If you meet the criteria, send your profile to alyssa.aldecoa@duncan-ross.com
SENIOR ROAD ENGINEER
Requirements:
– Bachelor's Degree in Civil Engineering
– Minimum 10 year's experience
– Proficient in Civil 3D tool
– GCC project experience
Commissioning Engineer
Qualifications and Skills:
– Bachelor's degree in business, marketing, or a related field (MBA preferred).
– Proven record of accomplishment of success in business development, preferably within the recruitment industry and Oil & Gas Sector.
– Strong understanding of the recruitment process, talent acquisition, and HR practices.
– Excellent communication, presentation, and negotiation skills.
– Ability to build and maintain relationships with clients at all levels.
– Analytical mindset with the ability to interpret market trends and competitive dynamics.
– Results-oriented with a demonstrated ability to meet or exceed targets.
– Self-motivated, proactive, and capable of working independently.
Send your profile to alyssa.aldecoa@duncan-ross.com
& mention the position you are applying for in the subject line.
Shortlisted candidates will be contacted in 2-3 days.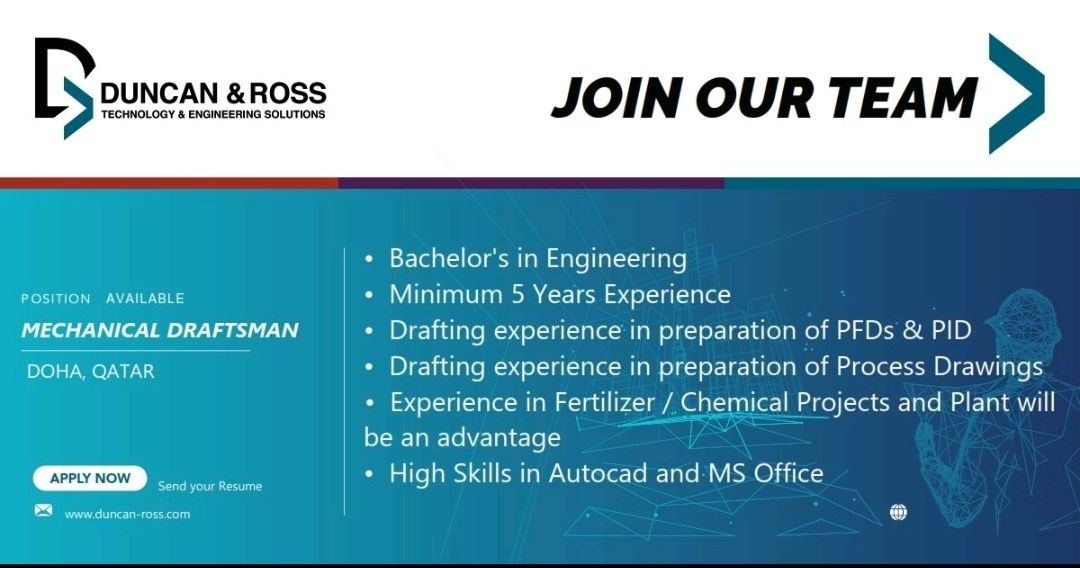 FOLLOW US FOR MORE LIVE UPDATES
Jobs in Dubai – Click Here 
Jobs in Abu Dhabi – Click Here 
Jobs in Doha – Click Here 
Jobs in Qatar – Click Here
Jobs in Saudi Arabia – Click Here 
Jobs in United Arab Emirates – Click Here