Company Info
Large organization
200 + Employees
Al Ghurair Investment
Al Ghurair Group Careers Jobs Vacancies
Job Positions
MEP TEAM LEADERS
MULTI TECHNICIANS (MEP)
HR & Admin Manager
Receptionist
Facilities Engineer
SOFT SERVICES AREA SUPERVISORS
QHSE Inspector
Ride Operators
Entrance Casheir
Finance Executive
Rides Team Leader
SOFT SERVICE EXECUTIVE
CLEANING SUPERVISORS (Male & Female)
QHSE Inspector
CAFM Operator
Manager Front Office
Commercial
Leasing Executive
Leasing Administrator
Job Details Here
MEP TEAM LEADERS
– With up to 5 years of relevant experience in the facilities management industry in UAE
– Should have Diploma or ITI qualification
– UAE driving license is mandatory
– Immediate joiners are highly preferred
MULTI TECHNICIANS (MEP)
– With up to 3-5 years of relevant experience in the facilities management industry in UAE / GCC
– Should have Diploma or ITI qualification
– Immediate joiners are highly preferred
Please share CVs to : fm.careers@al-ghurair.com
HR & Admin Manager
Receptionist
Enhance your career development and empower your path to reach your full potential with Saif Al Ghurair Group.
Candidates with similar qualifications and experience are invited to apply : HR@alghurair.com
Al Ghurair Facility Management is looking to hire for a Facilities Engineer thats immediately available in UAE.
• Should be a Mechanical / Electrical Engineering graduate.
• With 5+ of considerable experience in Facilities Management industry in UAE.
Please share your CVs to this Email address below: fm.careers@al-ghurair.com
QHSE Inspector
– With up to 3+ years of relevant experience in the FM industry in UAE.
– Should have Bachelor's degree
– Should be NEBOSH certified
Interested candidates, please share CVs to : fm.careers@al-ghurair.com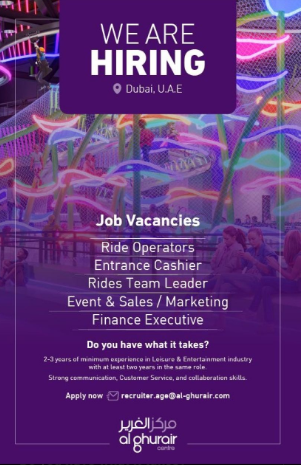 FOLLOW US FOR MORE LIVE UPDATES
Jobs in Dubai – Click Here 
Jobs in Abu Dhabi – Click Here 
Jobs in Doha – Click Here 
Jobs in Qatar – Click Here
Jobs in Saudi Arabia – Click Here 
Jobs in United Arab Emirates – Click Here