Company Info
Large organization
200 + Employees
Agile Consultants
Job Positions – Agile Consultants Careers Jobs Vacancies
Proposal Engineer
Senior Accountant
Assistant Finance Manager
Service Engineer
Sales Engineer
Financial Analyst
Financial Controller
Personal Assistant
Sales Executive
Maintenance Engineer
Quality Control
Financial Accountant
Project Engineer
Cost Accountant
Regulatory Affairs Officer
Warehouse Assistant
Procurement Manager
Sales Engineer
Quantity Surveyor
Warehouse Planner
Documentation Executive
Operation Manager
Safty Officer
Internal Auditor
Retail Consultant
Commercial Executive
Sales Manager
Personal Assistant
HR Executive
Job Requirements:
– Excellent communication skills.
– Ability to meet tight deadlines.
– Strong problem-solving skills.
– Minimum 4 years of UAE experience.
– Has to have experience with the HRIS Solution – WorkDay (Mandate).
– Should have good knowledge of Excel, PowerPoint.
– Multi-tasker.
Job Details Here
Email the resume :  info@agileconsultants.ae
Personal Assistant
Job Requirements:
– Minimum 3-4 years of experience as a Personal Assistant to C-Level Management.
– Fluency in Russian or Arabic along with strong English communication skills.
For details and to apply, please visit the link provided in the comment section.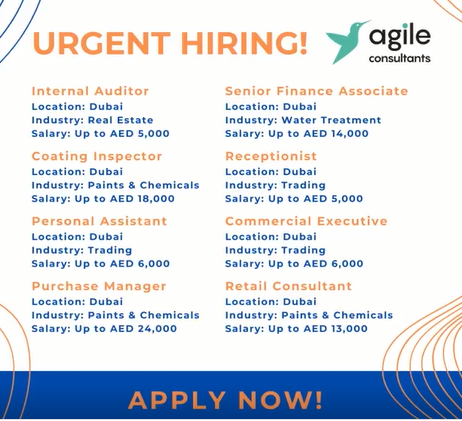 FOLLOW US FOR MORE LIVE UPDATES
Jobs in Dubai – Click Here 
Jobs in Abu Dhabi – Click Here 
Jobs in Doha – Click Here 
Jobs in Qatar – Click Here
Jobs in Saudi Arabia – Click Here 
Jobs in United Arab Emirates – Click Here