Company Info
Large organization
200 + Employees
Dicetek
Dicetek UAE Careers Jobs Vacancies
Dicetek is a global IT Solutions and Services Company established in 2006 with its corporate head quarters in Singapore. We continue to expand our global network while providing value -added cost effective consulting services to our clients.
Latest Dicetek UAE Careers Jobs Vacancies
1. NET Developer
2. Database Subject Matter Expert
3. Data Engineer
4. Performance Test Expert
5. Java Developer
6. SharePoint Developer
7. Lead Software Engineer
8. End User Support
9. HCM Functional Fusion Consultant
10. System Administrator
11. Insights Analyst
12. Sr Business Intelligence
13. Technical Delivery Manager
14. Senior Consultant
15. Release Lead
16. Project Manager – Genesys IVR Implementation
17. Business Analyst
18. Tech Lead
19. Virtual Sales Officer
20. Supply Chain Management Specialist
21. MS Dynamic CRM Developer
22. IT Project Management
23. OracleFinancial Consultant
24. Project Cordinator
25. Technical Analyst
26. Cloud Specialist
27. Sales Officer
28. Support Engineer
29. Security Architecture
30. Business Analyst
31. Layer & API Gateway Consultant

Job Details Here
JOB DESCRIPTION
•    C# .NET CORE 3.1 Development
•    REST FULL API
•   Familiarity with the ASP.NET framework, SQL Server and design/architectural patterns
•  ORM framework experience like DAPPER, Entity Framework or similar
•  Design pattern knowledge (MVVM, MVC, etc.)
•  SQL, LINQ
•  JavaScript / JQuery is a plus
•  Hands on Experience as a Front End Developer (REACT.JS) is a plus
Email id: shibina@dicetekuae.com
01. Database Subject Matter Expert
please send cvs to sumi@dicetekuae.com 
02. Data Engineer
please send cv to  Ruksana@dicetekuae.com
03. Lead Software Engineer
About the role
·      9+ Years of Experience in Application Development
·      Proficiency in Newgen technical stack
·      Key Skills: Core Java, JavaScript, J2EE,MSSQL,HTML,CSS,Web Servers and Application Servers
·      Good to have skills : Docker, Azure DevOps, Azure Kubernetes, Jenkins
Email ID : savita@dicetekindia.com
04. end-user support 
provides assistance to IT issues and disruptions.
Provides IT support for desktops, printers, peripherals, telephone systems, and cellular devices
Configures, installs and maintains complex software systems
Identifies, manage and resolve issues in a timely manner
Manages projects successfully on time and within budget.
Share cv's to Ruksana@dicetekuae.com
05. Insights Analyst
QUALIFICATIONS & EXPERIENCE:
Minimum Qualification
Bachelor's degree in Computer Science, Information Technology, or a related field. Master's degree is preferred.
Minimum Experience
3+ years of experience as a BI Developer.
Strong Knowledge of Power BI and SQL
should have experience working as a Business Analyst.
Share cv's to –  sumi@dicetekuae.com
06. Business Analyst
We are urgently looking for candidates with 5+years of experience in Retail banking/consumer banking/personal banking.
Please share your profiles to sumi@dicetekuae.com
07. Mechanical Quantity Surveyor
Minimum 5 to 10 years of experience.
Hands on experience on core java and java EE technologies such as JDBC, JMS, JNDI will be added advantage.
Good understanding and hands on knowledge on IBM WebSphere, JBOSS application servers and deployment concepts.
Good to have support experience on Applications like Content Management system, SMS Gate way, Finacle Alert system etc.
Email– savita@dicetekindia.com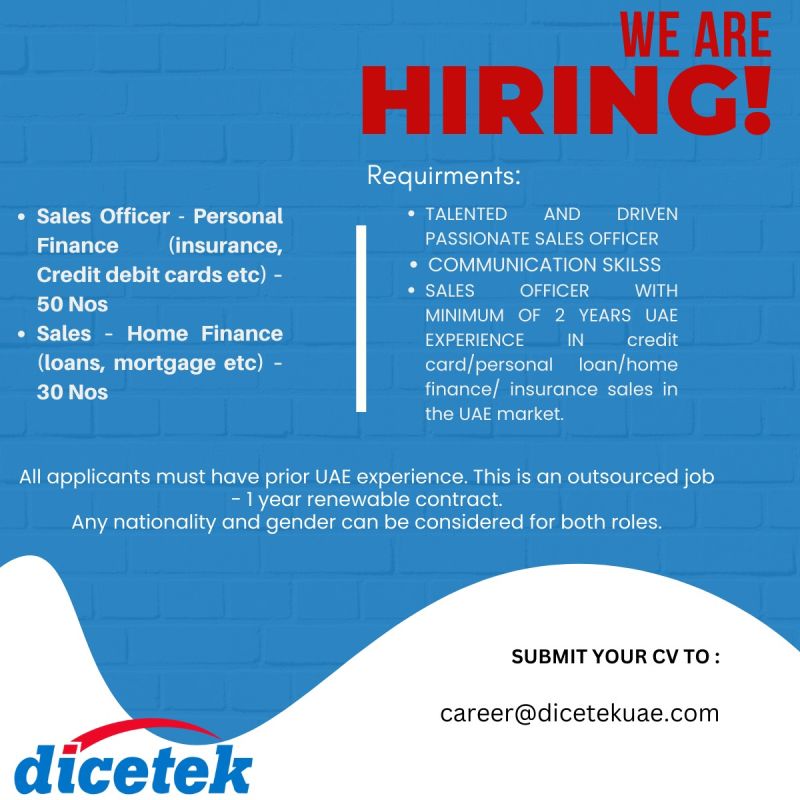 FOLLOW US FOR MORE LIVE UPDATES
Jobs in Dubai – Click Here 
Jobs in Abu Dhabi – Click Here 
Jobs in Doha – Click Here 
Jobs in Qatar – Click Here
Jobs in Saudi Arabia – Click Here 
Jobs in United Arab Emirates – Click Here