Company Info
Large organization
200 + Employees
KAD
KAD Construction Careers Jobs Vacancies
KAD is a multi-disciplined Engineering & Construction company which has expanded its operation in strategic infrastructure projects to become one of the most reliable contracting companies in the region. KAD's success is a result of opting for Quality and not for Quantity, our Clients' satisfaction of our services, the safety and quality of our Works, preserving and protecting the ethical approach principle in every aspect of the business, and the happiness and satisfaction of our employees, are the motives that keep us moving forward.
Latest KAD Construction Careers Jobs Vacancies
1. QAQC Lead Engineer with minimum 8 years experience in Oil & Gas projects
2. Foreman E&I
3. Storekeeper
4. Lead Engineer
5. Foreman | E&I
6. Storekeeper
7. HR Officer
8. Quality Control inspector
9. Junior Estimation Engineer
10.  E&I Quality Control Inspector (Abu Dhabi)
11. Junior Estimation Engineer (Dubai)
12. Recruitment Officer | UAE National (Dubai)
13. Project Manager
14. Construction Manager
15.  Planning Engineer
16. Site Engineer
17. Quality Control Engineer
18. Technical Engineer
19. Quantity Surveyor
20. Assistant Quantity Surveyor
21. Foreman
22. Surveyor
23. Assistant Surveyor
24. Safety Engineer
25. Safety Officer
26. Document Controller
27. Technical Office Engineer
28. General Foreman
29. Talent Acquisition Officer
30.  HSE Engineer
31. Civil engineering
32. QC Engineer (Civil)
33. QC Inspector (Oil & Gas)
34. Quality Control Engineer
35. Draftsman (Civil)
36. Site Engineer
37. Draftsman
38- Site Engineer
39- General Foreman
40. Commercial Manager
41. Safty officer
42. Planning Engineer.
43. Senior Planning Engineer
– Tendering and Procurement Manager
– Site Engineer
– Quality Control Inspector
– Draftsman
– HR Officer
– Time Keeper
– Assistant Surveyor
Looking for candidates with experience in Roads and Infrastructure Projects.
Interested candidates can send their CV to recruitment@kad.ae mentioning the position in the subject.
– Technical Office Engineer
– Site Engineer
– Quality Control Inspector
– General Foreman
– Assistant Surveyor
– Tendering and Estimation Manager (Roads & Infrastructure)
– Engineering Manager(Oil & Gas)
– Quality Control Inspector (Roads & Infrastructure)
– Civil Draftsman (Roads & Infrastructure)
– E&I Inspector (Oil & Gas)
– Assistant Surveyor
Job Details Here
Experience in Construction and Oil and Gas projects is a must.
Interested candidates can send their CV to recruitment@kad.ae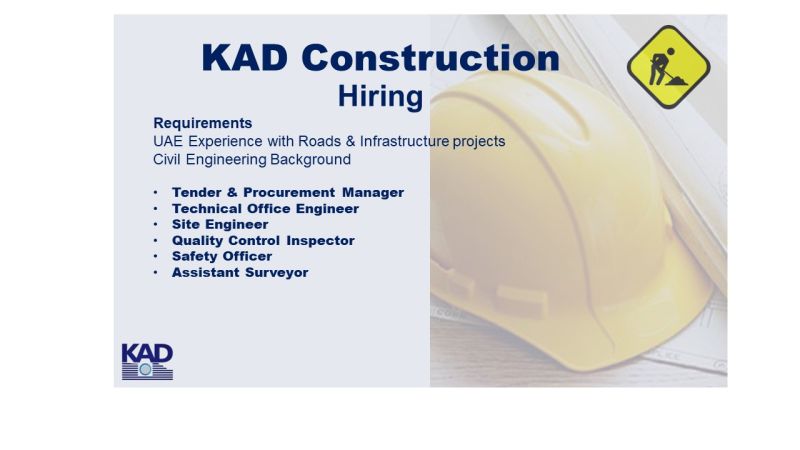 FOLLOW US FOR MORE LIVE UPDATES
Jobs in Dubai – Click Here 
Jobs in Abu Dhabi – Click Here 
Jobs in Doha – Click Here 
Jobs in Qatar – Click Here
Jobs in Saudi Arabia – Click Here 
Jobs in United Arab Emirates – Click Here