Company Info
Large organization
200 + Employees
ECOS Dubai Hotel at Al Furjan
Job Positions – ECOS Dubai Hotel at Al Furjan Careers
1. – Bell Boy
2. – Waiter (Arabic Speaker)
3. – Commis
4. – Telephone Operator
5. – Reservations Agent
Job Details Here
Candidates MUST be locally available.
Candidates MUST have worked in a similar role in a hotel environment ONLY for min 1 year, preferably within GCC.
Good communication skills in English required.
Additional languages will be an added advantage.

Applicants MUST write the position applying for clearly in the subject line of their email.

Send your applications to:
leonila.rojas@hmhhotelgroup.com
ONLY short-listed candidates will be contacted within 14 working days since application date.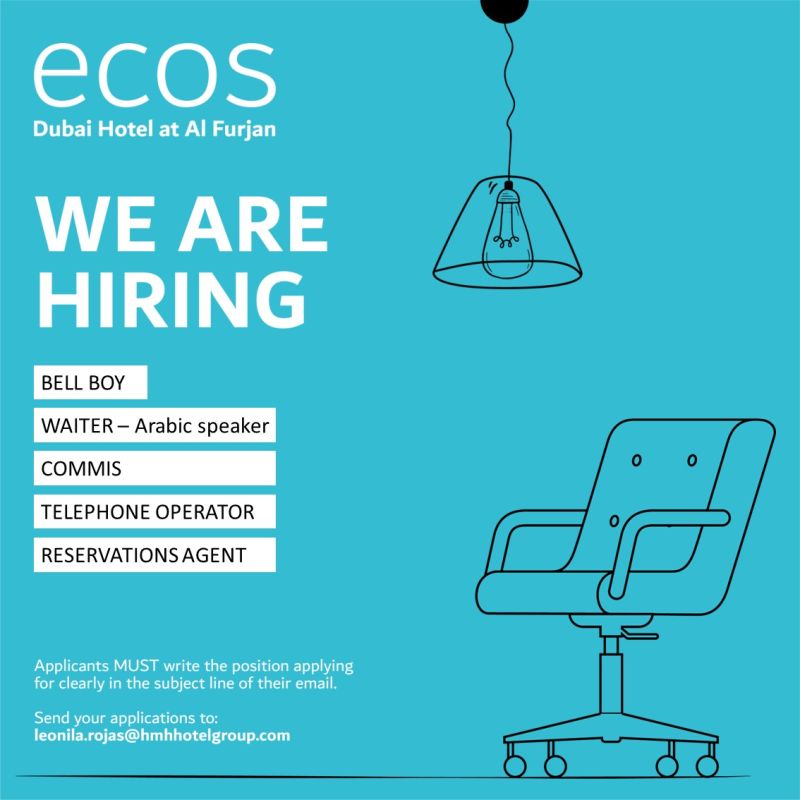 FOLLOW US FOR MORE LIVE UPDATES
Jobs in Dubai – Click Here 
Jobs in Abu Dhabi – Click Here 
Jobs in Doha – Click Here 
Jobs in Qatar – Click Here
Jobs in Saudi Arabia – Click Here 
Jobs in United Arab Emirates – Click Here