Company Info
Large organization
200 + Employees
MEDIC HR CONSULTANCY
Medic HR Consultancy Careers Jobs Vacancies
We are one of the leading consultancy based in Dubai, helping to find a perfect candidates for hospitals, medical centers, polyclinics, pharmacies and non medical recruitment. We have a good database of DHA/DHCC/DOH/MOH licensed doctors across all specialist and sub specialities. We also do executive search and recruitments for non medical facilities too.
Latest Medic HR Consultancy Careers Jobs Vacancies
Specialist Dermatologist
Specialist Consultant
Internal medicine
Radiologist
Ambulance Nurse
MOH Registered Nurse
Specialist Gynecologist
Receptionist
DHA Registered Nurses ( for University)
Staff Nurse
caregiver
HOMECARE
Consultant
General Practitioner
Student Counsellor
Job Details Here
Interested candidates may share their profiles at ankitha@medichrc.com
**Only shortlisted candidates will be notified.
GENERAL PRACTITIONER
Must have atleast 6 months of experience in UAE.
Female doctors preferred.
Hindi and Malayalam speaking mandatory
Must be able to join ASAP.
If intrested, share your resume to info@medichrc.com
Consultant
Location: Dubai, United Arab Emirates
Monthly Gross Salary: AED 40,000 – 45,000
Requirements: DHA License or Eligibility Letter as Specialist or Consultant
Check out our advert link:
Join / Share Our Telegram channel https://t.me/atcomlb and stay updated with the latest job opportunities
Caregiver 
Location: Abu Dhabi
Must be willing to join immediately
Male candidates only
Hindi speaking preferred
Must be willing to live in with family.
Must have at least 2 years of caregiving experience in home country.
If interested, share your resume to info@medichrc.com
receptionist
We are hiring receptionist for a medical center in Jumeirah.
Must have atleast 1 year of healthcare experience in UAE.
Must be able to join in short notice.
Any nationality can apply.
Male candidates only.
Share resume to sruthi@medichrc.com
 HOMECARE
Must have DHA ELIGIBILITY OR LICENSE
Must have atleast 2 years of homecare experience in UAE.
Kindly share your resume to info@medichrc.com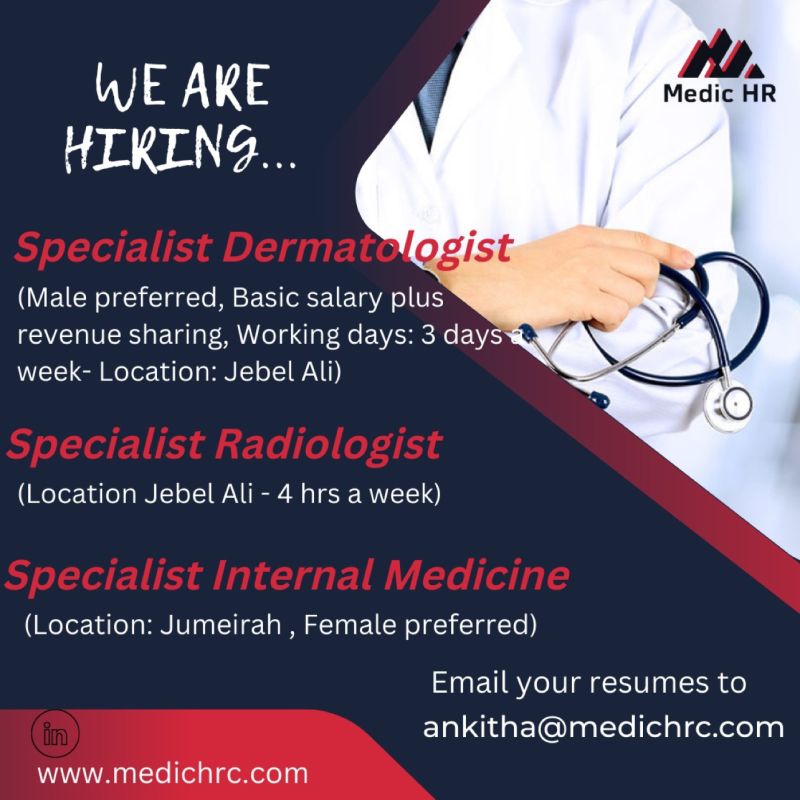 FOLLOW US FOR MORE LIVE UPDATES
Jobs in Dubai – Click Here 
Jobs in Abu Dhabi – Click Here 
Jobs in Doha – Click Here 
Jobs in Qatar – Click Here
Jobs in Saudi Arabia – Click Here 
Jobs in United Arab Emirates – Click Here