Company Info
Large organization
200 + Employees
Ancient Builders Constructions
Ancient Builders Constructions Careers Jobs Vacancies
One of the leading UAE based recruitment and human resources firms, Accel Human Resource Consultants works with both employers and candidates and that is why we understand both sides of the recruitment process. At Accel, we have a dedicated team of recruiters, headhunters, and consultants that pay attention to even the smallest of the details to create efficie employer-candidate connections.
Latest Ancient Builders Constructions Careers Jobs Vacancies
Procurement
HSE professionals
land surveyor Document controller
Receptionist
Store Keeper
Quantity surveyor – civil
Estimation Engineer
Procurement Engineer
Procurement Officer
Steel Fixer Foreman
General Foreman
Job Details Here
Interested candidates may share their profiles at hr@ancientbuilders.ae
**Only shortlisted candidates will be notified.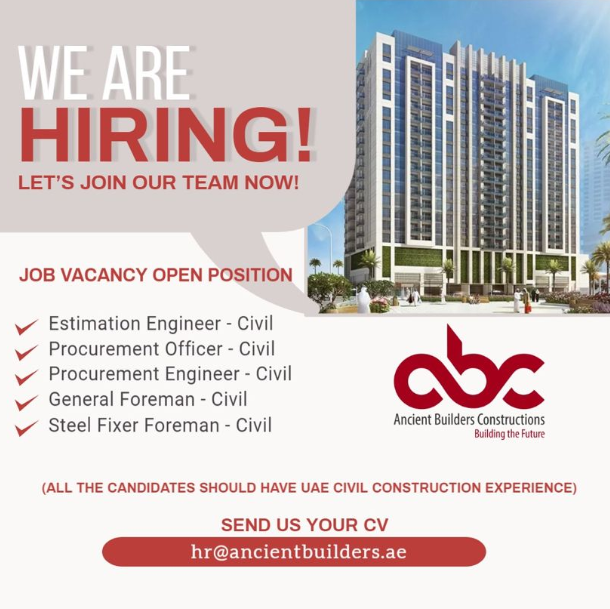 FOLLOW US FOR MORE LIVE UPDATES
Jobs in Dubai – Click Here 
Jobs in Abu Dhabi – Click Here 
Jobs in Doha – Click Here 
Jobs in Qatar – Click Here
Jobs in Saudi Arabia – Click Here 
Jobs in United Arab Emirates – Click Here